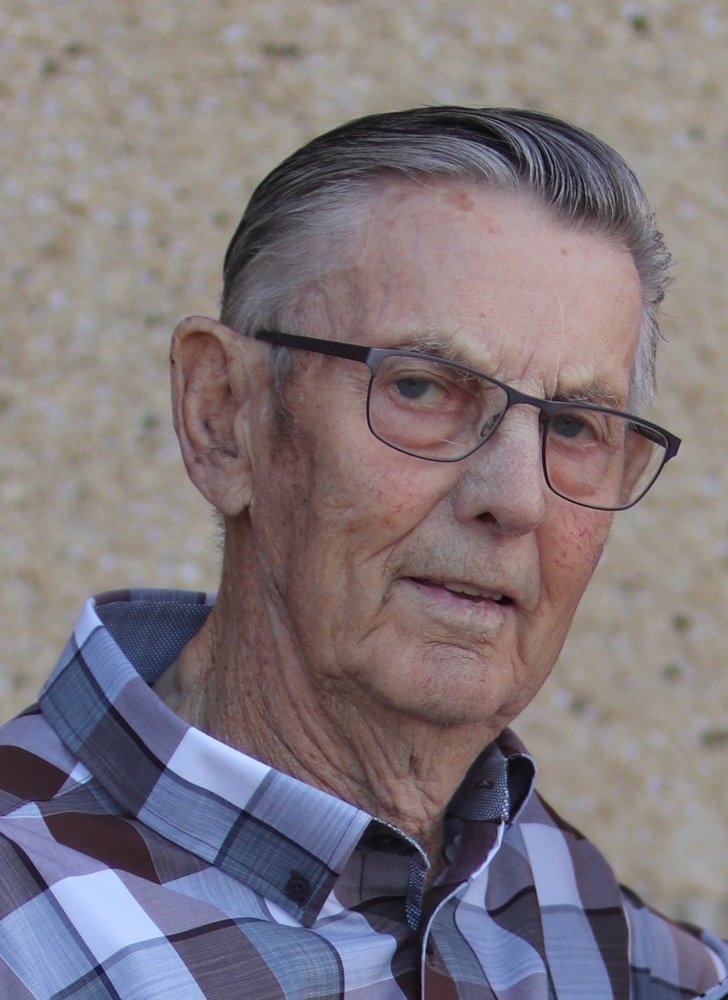 Obituary of Ralph Sorenson
Please share a memory of Ralph to include in a keepsake book for family and friends.
.Ralph Sorenson went to be with his Lord and Savior on May 15, 2020 at the age of 93. After battling cancer, he passed away peacefully with his beloved wife, Jean, at his side. Throughout his life, his priorities were serving God, loving his wife and family, and giving to his community and province. Those who knew him well enjoyed his dry wit that rarely let out a laugh but was clearly displayed in the twinkle in his eye. Ralph was born on March 27, 1927 to Andrew and Mary Sorensen on the family farm, the sixth of seven children. He grew up learning to love the Lord and family, working hard on the farm and playing baseball and hockey. He attended Prairie Park School and Killam High School. All of his free time when he was young was spent outdoors hunting, trapping and playing sports. At an early age, he put his trust in Jesus and was baptized at Sylvan Lake. Having family surround him was extremely important to Ralph. In 1954, Ralph married Jean Rancier and to this union they were blessed with 4 children: Kevin, Leon, Leighton and Janelle. He and Jean built a home next to the original homestead where Ralph was raised. They farmed with his parents until they passed away and then later, continued to farm with his sons. Upon achieving a century of farming, the Sorenson Family Farm was awarded the Century Farm Award in 2007. Music filled their home. He sang for years in many trios, choirs and quartets and encouraged his children to continue this tradition. Politics was a lifelong passion. In 1971, he was elected as a member of the Legislative Assembly with the Social Credit Party until 1975. He was a founding member of the Reform Party and served on the local constituency board for many years. Almost everyday, he faithfully tuned into watch Question Period with a keen interest in Canadian politics. Serving God in as many areas as possible, gave Ralph great joy. He was a committed long-term member of Killam Baptist Church where he served faithfully. Along with Jean, they lead the service at Flagstaff Lodge for many years. In leading the Missions Committee, Ralph and Jean initiated the Community Charity Auction and Garage Sale which expanded into supporting many local charities and foundations. For 23 years, many local businesses donated items and time to this worthy cause. Ralph was always so thankful and appreciative of the many donors and those who supported the auction. In Ralph's later years, this charity auction became his purpose, passion and focus in serving God and those in need. Throughout the years, Ralph was honored with several awards. In 2006, he and Jean were awarded Servant Leaders of the Year for the Baptist General Conference. For his service to the community, he was awarded the Queen's Diamond Jubilee medal in 2012. He was inducted into the Killam Hall of Fame in 2012. In 2017, he was one of fourteen Albertans to receive a Senate 150th Medal in recognition of significant contributions made to his community. Writing was a pastime that he relished. Unbelievably, he wrote every day in a diary for the past 50 years. He left a legacy of history, news, weather and anecdotes in those journals. His final entry was May 12. Poetry also became a favorite way for Ralph to express his thoughts. He has written countless poems about Bible characters, vacations, and life on the farm. Most of his family and acquaintances were pressured to write a poem in response. In recent times, Ralph and Jean loved spending time during winters in Arizona where he fell in love with the climate and the Superstition Mountains. Ralph enjoyed Baseball Spring Training in Arizona for many years and even celebrated his 90th birthday with all of his family who surprised him at a baseball game. Ralph always found time in later years to enjoy coffee daily with his coffee buddies at the Killam Krossing. He will be buried at Prairie Park Cemetery outside of Killam, where he was the caretaker for many years. He was predeceased by his parents and all but one sibling, Ruth Peterson. Many are left to mourn his loss. His loving and devoted wife, Jean Sorenson; His children and spouses, Kevin and Darlene Sorenson, Leon and Robin Sorenson, Leighton and Laura Sorenson and Janelle and Larry Ness; His grandchildren, Kristen (Matt) Schmidt, Ryan Sorenson, Laina (Curtis) McAusland, Cam (Adele) Sorenson, Joel Sorenson, Jeremy (Olivia) Ness, Janay Ness; His great-grandchildren, Ellie McAusland, Kaden Schmidt; Countless other nephews, nieces and cousins. He will be missed but never forgotten. He has left us an exceptional example of Christian faith, community service and love for family. Memorial donations in memory of Ralph may be made to the Killam Baptist Church, Killam Palliative Care Room c/o Killam & District Health Care Foundation, Prairie Park Baptist Cemetery or a charity of donor's choice.