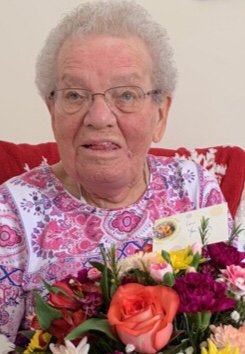 Obituary of Loyola Fleck
Please share a memory of Loyola to include in a keepsake book for family and friends.
Loyola Alvina Fleck (Niehaus) passed away peacefully at the age of 86 on November 27, 2020, with family by her side. Loyola was born on July 22, 1934 in Rosalind, Alberta to Bernard (Ben) and Magdalena Niehaus. After high school Loyola worked as an aide in the original Killam Hospital. She met Norbert Fleck and they later married in Strome on July 15, 1958. Norbert and Loyola's first home was in Killam, then they moved to Strome and then to Daysland. Eventually they moved back to Killam where they built their home and raised a family. Loyola cleaned the Catholic Church and Rectory and worked in the laundry department at what is now the Killam Health Care Center. She was an active member of the CWL. Norbert and Loyola remained in their own home until the spring of 2019. She then moved to Providence Place in Daysland. Loyola was known for her yard with its array of beautiful flowers and ever-growing collection of lawn ornaments. She was very proud of her children, grandchildren and great grandchildren. Christmas was always a special time as she was busy baking to make sure everyone had their favorite treats. Loyola also enjoyed camping with the family and their regular bus trips to various casinos. Loyola is survived by her 7 children Ken (Brenda) of Killam, Edna (Ted) of Drumbo, Ontario, Calvin (Jodi) of Edmonton, Kathleen (Mark) of Edmonton, Connie (Don) of Sidney, BC, Sharon (Dennis) of Heisler, Maureen (Jason) of Sooke, BC; 13 grandchildren, 3 great-grandchildren, 2 sisters Jeannette and Alma, 3 brothers Eldon, Larry and David and numerous nieces and nephews. She was predeceased by her husband of 62 years Norbert, parents Bernard and Magdalena, stepmother Valeria, sisters Mildred, Lorraine and Barbara, brother Verner and numerous brother and sister in laws. Due to Covid Restrictions there will be a private mass at St. Joseph's Catholic Church on Friday, December 4th with burial following. Memorial donations in memory of Loyola may be made to the Killam Palliative Care, the Killam Cemetery Association, the Cancer Society or a charity of the donor's choice. Loyola Fleck's Eulogy: Loyola Alvina Fleck (Niehaus) was born July 22, 1934 in Rosalind, Alberta to Bernard (Ben) and Magdalena Niehaus. After high school she worked as an aide in the original Killam Hospital. She met Norbert Fleck and they married on July 15, 1958. They lived in Killam then moved to Strome and then Daysland. Eventually they moved back to Killam where they built a home and raised their seven children. Loyola cleaned the Catholic Church and Rectory for several years and worked in the laundry department at what is now the Killam Health Care Centre. She was an active CWL member. Mom had quite a few hobbies. She was an accomplished sewer. There were many matching dresses made through the years. The most memorable might be the matching white ones for Grandpa and Grandma Fleck's 50th Wedding Anniversary. The boys always had a matching vest and tie to match the girls dresses. There were a few barbie doll clothes made over the years too. Lets not forget the year she took up making mukluks. I think we all ended up with a pair. And every Grandchild had a Raggedy Ann or Andy made by her. Mom loved to bake. If she had to take squares somewhere she would pour over her cook books deciding which ones to make. Or if someone made one she really liked she would be sure to make it for another time. Before Christmas she would bake for weeks. She would make sure she had everyones favorite made. The Grandkids talk about the endless squares, cookies and chocolates that would come out of Grandma's freezer. But Mom was most famous for her buns and cinnamon buns. Whatever the occasion there were homemade buns. They were the fluffiest buns ever. Everyone learned from a young age you did not sit on the beds when Mom was making buns because that was where she put them to rise. Putting the buns to bed we use to say. Her daughters haven't had much success in them but we keep trying, with the exception of one or two who have also figured out her recipe of ingredients only. No measurements were wrote down. Some of the Grandchildren have carried on the tradition of making buns. Also having to decipher her recipe. Home made noodles were probably a close second. Once again the beds were used. Noodles were spread across them to dry and no one went to bed until the noodles were dry and packaged. Mom also had a joy for gardening. She had a huge vegetable garden as well as flower beds. Many an afternoon was spent shelling peas. The grandchildren were even put to work shelling peas when they were old enough. Though sometimes Mom was sure they ate more than got put in their pails. Brenda also remembers picking and shelling peas when she was eight months pregnant to ensure moms peas got picked as they were away on vacation. The grandchildren were always welcome in her garden. I remember looking for Shelaine when she was maybe 5 and finding her in the pea patch. Mom was always looking for a new flower to try in her gardens. She was always adding new ornaments to her gardens as well, many were given as gifts. The house was always open to anyone we brought home. She always made sure they felt welcome and always made sure they had something to eat. If you came around often enough you were told where everything was and to help yourself and some were even lucky enough to get their own house key. Mom put up with pool balls slamming at all hours of the night, grandkids laying on the carpet watching tv or playing video games and the basement floor covered in blankets at night as all the grandkids wanted to sleep together . Mom was always up for any adventure. She went whale watching in B.C., tried skateboarding, bike riding, went down waterslides, hiking, fishing, and walked the Town of Killam. She wasn't always successful at everything. There were a few broken bones from bike riding and hiking and fish hooks caught in her head. But that didn't discourage her from trying something new. I'm told she taught Kyle, Shelby and Jeremy to clean the perch fish because no-one else would and she loved perch. Moms biggest love were her Grandkids and Great Grandkids. Her eyes would light up when she got to hold a new baby. She was never happier when the Grandkids would come to visit. Sometimes there could be 6 of them there at once and somehow they all would have their favorite cereal for breakfast. Christmas was for the Grandkids. The tree was decorated with them in mind. New ornaments were bought yearly for them to find on the tree. Our Mom was a great role model. If We can be half the person she was we consider ourselves to be very lucky. We miss you Mom and our hearts are breaking. Love You Always.