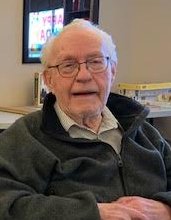 Obituary of Ed Kueber
Please share a memory of Ed to include in a keepsake book for family and friends.
It is with great sadness that we announce the passing of Ed Kueber on November 12th, 2020 in Killam, Alberta, at the age of 95. Edmond (Ed) John Kueber was born on March 18th, 1925, at Killam, Alberta to Edmond Alexander Kueber and Frances Barbara Kueber (born Moser), he was the 4th of 9 children. Ed was raised on the family farm 5 miles southwest of Killam and attended school nearby at Willow Hollow school. Ed married Evelyn Milani on July 16th, 1957, at which point they bought land and built a home 6 miles south of Killam, where they started a family and began farming. Ed and Evelyn were blessed to have 13 children over the course of spending 37 years on the farm, before retiring and moving into the town of Killam in 1994. Ed, or Kaiser, as he was better known to friends and family, enjoyed watching baseball, playing cards, making others laugh and spending time with his family. Ed was an incredibly dedicated family man and known for having a great sense of humour, always telling jokes and stories, especially to his kids, grandchildren, and friends. He was an amazing person and will be greatly missed by all those whose lives he touched over the years. He was predeceased by his parents, Edmond and Frances, his brother James (Jim), and his sisters Agnes, Eileen (Iky), and Margaret (Mag). Ed is survived by his wife Evelyn and their 13 children: Joe (and Trudy) Kueber, Mary (and Bruce) Thomas, Frank Kueber, Ed Jr. (and Marina) Kueber, Virginia Kueber, David Kueber, Daniel (and Bonnie) Kueber, Terry (and Marni) Kueber, Chris (and Rob) Giles, Cathy Kueber, Susan (and Louis) Schmutz, Jennifer Kueber, and Paul Kueber, as well as their 17 grandchildren: Justin and Melissa Kueber (Joe), Angela, Vanessa and Jeff Thomas (Mary), Brandi and Brett Kueber (Frank), Jaime and Erik Kueber (Ed Jr.), Brandon Kueber (Virginia), Megan Kueber, Alysha and Shelby Gartner (Daniel), Aaron Foreman (Terry), Ryan and Shayna Giles (Chris), and Alex Schmutz (Susan), as well as three great-grandchildren: Kennedy Foy (Alysha), and Averie Himmelspek & Eleanor Foreman (Aaron). Ed is also survived by his brother Ernest (Ernie), and sisters Virgie, Marilyn and Betty, and his brother in law, Jim (Gen), as well as numerous nieces, nephews, cousins, and other extended family. Funeral services will be held in private for immediate family, due to the Covid-19 Restrictions, on Saturday, November 28th at the Catholic Church in Killam, Alberta. Burial will follow at the Killam cemetery. Memorial donations in memory of Ed may be made to the Heart and Stroke Foundation or the Killam & District Health Care Foundation or St. Joseph's Catholic Church in Killam (Hall renovations). Eulogy for Edmond John Kueber - March 18, 1925 - November 12, 2020 Well, here we are, to celebrate the life of Edmond John Kueber…a son, brother, uncle, husband, father, grandfather, great-grandfather, and teller of stories and jokes. Let's touch on some of these parts he played throughout his life. -Edmond John Kueber was born on March 18, 1925 to Edmond Alexander Kueber and Frances Barbara Kueber (nee Moser); he was the 4th of 9 children. -Eddie was a brother to siblings Jim, Ernie, Agnes, Eileen (Iky), Virgie, Mag, Marilyn and Betty. I suspect that our Dad developed his mischievous sense of humor growing up on the farm with his siblings. They loved watching baseball & hockey and playing indoor games, especially card games. There were common sayings I've heard from his siblings and Dad, such as "I've had elegant sufficiency" at the end of a meal; or if you asked too many questions about where he was going, Dad would state "I'm going to Melpeatas to see Mrs. Smerritt" – in other words, none of your business! -Eddie & siblings went to a small school in their community called Willow Hollow, until such time as he was needed to help full time on their family farm. Eddie did travel before settling down on his farm south of Killam. He worked in BC and the States for a bit to save up some money, before buying the land outside of Killam where he built his farm house on Poverty Hill. -Eddie was Uncle Kaiser to numerous nieces and nephews over the years. For as long as I can remember, my dad was nicknamed Kaiser; he had no military service regardless of the nickname. The story behind this nickname is that as a young man, Eddie liked a song called "Kaiser Bill" and he listened to it so often that his brother Jim called him Kaiser Bill, which eventually was shortened to just Kaiser. Some of the supposed words to this song that Dad would recite were "Kaiser Bill went up the hill to see the war in France. Kaiser Bill came down the hill with bullets in his pants!" Sounds like a song that Dad would find amusing! Link to https://www.loc.gov/resource/ihas.200210794.0/?sp=1 -Eddie married Evelyn Milani on July 16, 1957, who had been teaching in the catholic school in Killam, this courtship at the encouragement of his brother Jim, who as a School Board Member was involved with the hiring of the teachers at the school. -Children soon followed, enough for a baseball team as Dad would say, my hard-working siblings Jennifer, Susan, Catherine, Christine, Virginia, myself (Mary), Paul, Terry, Dan, Dave, Ed, Frank and Joe. - Kaiser was grandfather to Justin, Melissa, Angela, Vanessa, Jeff, Brandi, Brett, Jaime, Erik, Brandon, Aaron, Megan, Alysha, Shelby, Ryan, Shaina, Alex. - Eddie was also a Great-Grandfather to Kennedy (Alysha), Avery and Eleanor (Aaron) -Eddie was a good provider, as our family always had a warm home to live in, lots of good food to eat (thanks Mom for contributing greatly to that part), proper clothes on our backs. There were many items provided to keep us entertained in all seasons – baseball bats, balls & gloves with our own baseball diamond marked out in the yard, bicycles, motorbikes, quads, a trampoline, swing sets, toboggans, skates for the ice rink he made out back each year, snowmobiles, and for days when we were trapped inside lots of card & other board games so we were not bored. -Christmas was a special time for Dad; usually on Christmas morning he would be right in the midst of the chaos as presents were being opened and shouts of who got what could be heard throughout the house. When Grandma Frances Kueber was still alive, she would always come out for turkey dinner and all the fixings at Christmas time, which is when the loganberry wine would be served, and Grandma Kueber would give each of us an envelope with a dollar or two in it. This was amazingly generous, since there were a LOT of grandchildren and her children that she gave money to at Christmas and on birthdays. This generous gifting would continue with our Mom & Dad, always gifting us most generously on our birthdays and at Christmas. When Dad was not too busy with yard and farm work, he would be generous with his time, reading to anyone who grabbed a book of fairy tales and crawled into his lap for a story. -Some of Eddie's favorite foods and drinks include his favorite medicine, Crown Royal, or eating cheese, crackers & Kueber sausage with a beer, or enjoying a bowl of nuts of various kinds. If you happened to be hanging around when he was enjoying these delights, he would often share a bit with you. Dad regularly partook of his Vitamins X, Y, Z aka Copenhagen Snuff If you got too curious about the chewing tobacco, he would share that with you, which immediately you would regret! -Eddie liked a good joke, story, or prank, usually laughing at the punchline no matter how many times he told the joke to others. Always on April Fool's day Dad would come up with some prank to get us all looking out the living room window for moose, wolves, bears or some unexpected creature that of course was never there. There were a number of Pat & Mike jokes he told & retold, one that sticks in my mind involved a cow being killed by a cork…well, probably should not tell the rest of that joke in church! I'm hoping as siblings we can write up as many of these Pat & Mike jokes that can be remembered, and I volunteer to compile these jokes for family, with the goal to share them with our family and friends. Out of curiosity I googled "Pat & Mike jokes", to find to my amazement many such Irish jokes about Pat & Mike online that I had never heard. -In conclusion, thank you to all those offering your support for us all. Kaiser would want this to be a celebration of life, not a sad occasion. He worked hard, but took time to laugh with family and friends often. Let's keep that laughter alive for as long as we can. *******************To Kaiser Bill from Poverty Hill!