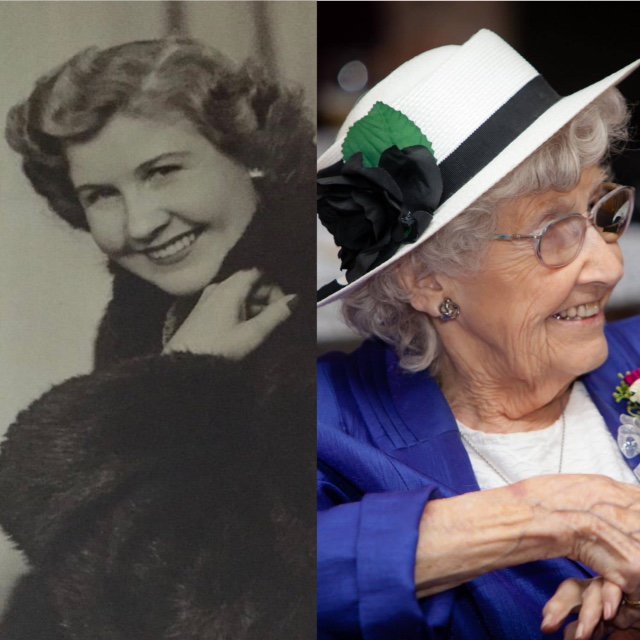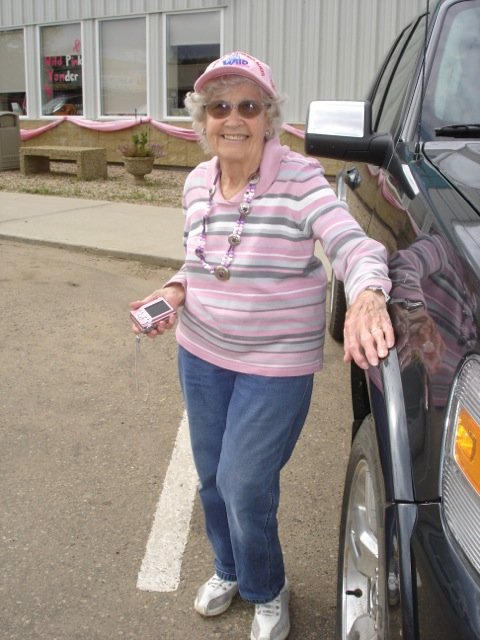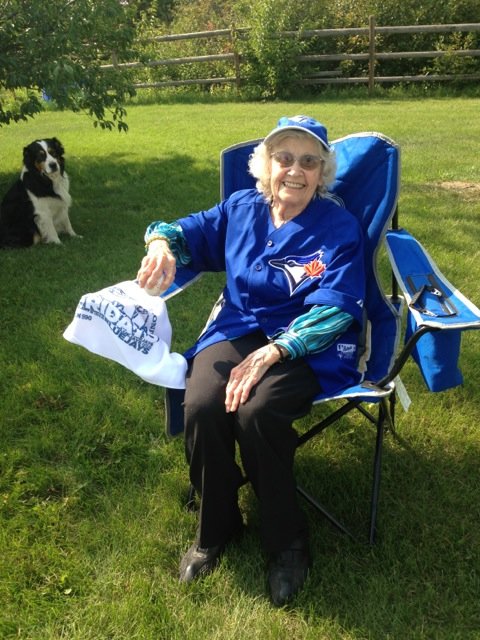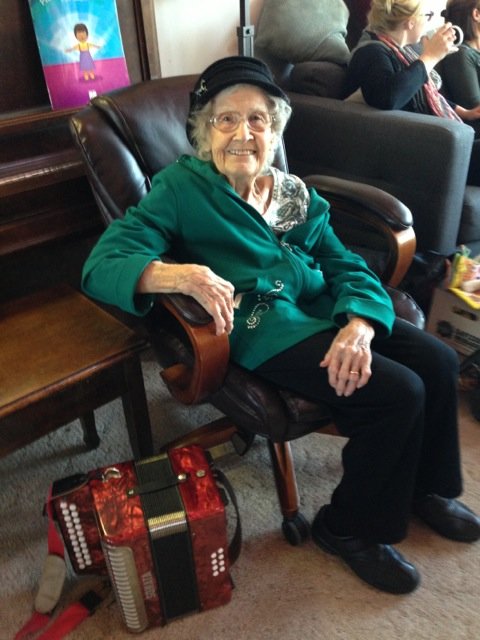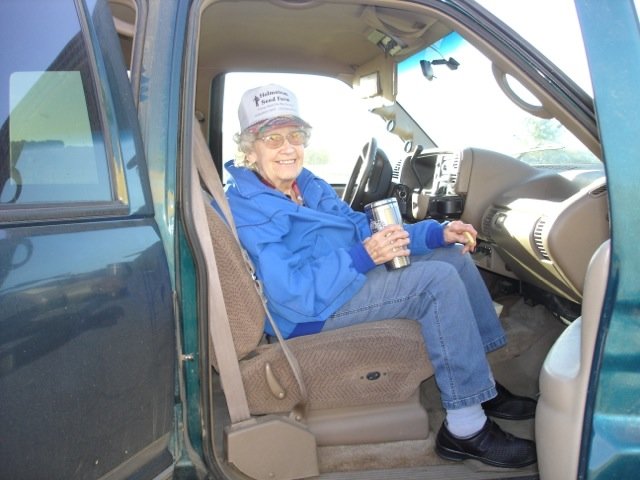 Obituary of Eileen Ness
Please share a memory of Eileen to include in a keepsake book for family and friends.
Eileen Agnes Ness was born on the farm close to Wood Mountain, Saskatchewan on October 1, 1924. She was the youngest of 4 children born to Gunnar and Clara Fogelberg. Eileen started out as a premature baby. She was only a couple pounds at birth and her grandma wrapped her in cotton batten and kept her warm near the wood stove, feeding her with an eyedropper. It was amazing she survived knowing the TLC preemie babies require these days. Her dad nicknamed her Tuba, which she told us means small in Swedish. Eileen grew up in the Wood Mountain area, attending the local school and helping on the farm and in the coal mine that her dad ran. In her late teens, she attended Business College in Regina, Saskatchewan. She landed her first job in the bank in Limerick, Saskatchewan, later transferring to the Bank of Montreal in Lethbridge. After taking a two-year leave to live in London, England with her brother, Eileen returned to Canada and resumed her banking career in Edmonton Alberta. By this time her future husband Bob Ness, was well in the picture so she moved to Sedgewick, Alberta, and worked at the Bank of Montreal there until her marriage to Bob on July 9, 1960. It was at this time that she started a new career, one she would hold for the rest of her life, as a homemaker, farmer's wife, and mom. After many years on the farm, Bob and Eileen retired to Sedgewick in 1992. They enjoyed many good years there, enjoying retirement by working in their beautiful yard, camping, and attending sports events. Eileen was always a busy active person so was keen to participate in curling and bowling competitions as well as watch her grandkids compete in various events such as ball games, singing performances, school plays just to name a few. When she couldn't compete in sports anymore, you could find her sitting in her favorite chair, knitting a dishcloth while cheering on her beloved BlueJays in the summer and the Oilers in the winter. She loved to follow Kevin Martin's curling and went to every curling event she possibly could. After Bob passed away in January of 2007, Eileen continued to live in her Sedgewick home until she took up residence at Killam long term care in April of 2017. She went to be with her Lord and Savior on September 17, 2020. Mom packed so much life into her almost 96 years! She had so many wonderful stories and adventures that she readily shared with those around her. From stories of growing up on the "bald-headed" prairies, to overseas travel, to her many fun times with friends during her working years, she had a love for life that was second to none. Even though the family went through some tough times, which mom never shied away from recalling, there were also lots of fun times. Community dances fueled mom's love for dancing and music. She learned to play the button accordion and harmonica from her dad and was also a pretty good yodeler. Lots of fun times were had with her siblings and cousins who lived in the area. Like one time where she and her cousin found an old barrel at the top of a hill. While their moms were having afternoon coffee, they decided that they would get inside the barrel and see what it would be like to ride it to the bottom. Suffice it to say, there were two very dizzy, although thankfully uninjured, kids that came out of the barrel at the bottom of the hill. This in a nutshell describes mom's character, jump in with both feet and take the risk for the adventure! Through her working years, Eileen formed many good friendships. She stayed in touch with all of them with Christmas cards and letters. She knitted socks for the servicemen and watched hockey with her friend Barbara. She played tennis, softball and joined a riding club with other friends. They attended dances every weekend. This is where she connected with the Ness family through a future brother-in-law, Lloyd. Working in banking suited her and like everything in her life, she put her all into it and excelled at it. She took these skills into her married life, taking care of the farm books, and helping to manage the farm finances. She loved gardening and always took pride in her large garden. Every year she was enthused to put entries of fruit, vegetables, flowers as well as baking in the local fairs. It was a fun time with all the extra baking and excitement. She always had lots of energy for canning, baking bread and pies, making jam, churning her own butter, and making lots of delicious meals. As children we wondered if she ever slept, it seemed she was always moving and sat down only for ½ hr. a day to watch her one afternoon show and have a coffee. She worked hard on the farm but made sure to take time for us. She rarely missed a ball game, always attended school events, and hosted youth group parties. You couldn't know mom without admiring her tenacity and grit. Everything she did, she put all she could into it. She was a determined person, with a strong will. It was never an option for her to quit. She did what she loved, and what she could for others until she physically couldn't anymore. Often you could come to mom's house and find her with some music on, dancing with her broom and then her walker as her partner. She also danced at most of her grandkid's weddings with that walker! She had a strong faith. She told of first hearing the gospel, when she was a child, from a neighbor lady who ran a Sunday school out of her home. She also told of poking her head under the edge of the tent where gospel meetings were taking place to get a glimpse of the "Holy Rollers". Mom fondly recounted her experience seeing Billy Graham preach in London when she lived there. She became a faithful attendee of the Killam Pentecostal Church and was involved in the woman's ministries there. In these last years, mom told us that she prayed for her kids and grandkids daily, committing them to the Lord. Probably mom's greatest feat was the legacy she leaves in her family. Nothing brightened her day more than seeing her grandkids or her great-grandkids. She loved each one of them so much and always had some jellybeans to give them when they visited. They were truly the most precious thing to her. She was very fond of all her nieces and nephews and was close to her brother and sisters-in-law as well. Eileen was predeceased by her husband Bob, her parents, Clara and Gunnar Fogelberg, her siblings Arthur, Evelyn, and Helen. She is survived by her daughters: Cindy (Levern) Bullee of Sedgewick, AB; Barbara (Darrell) Holmstrom of Killam, AB and Mable (Sid) Lockhart of Camrose, AB. 10 grandchildren, and 13 great-grandchildren Due to the current restrictions, a private service will be held at 2:00 pm on Sunday, September 27, 2020. It will be live-streamed on Facebook under the Killam Pentecostal Church page. Memorial donations can be made to Killam Pentecostal Church, Killam & District Health Care Foundation, or to a charity of one's choice.
Share Your Memory of
Eileen