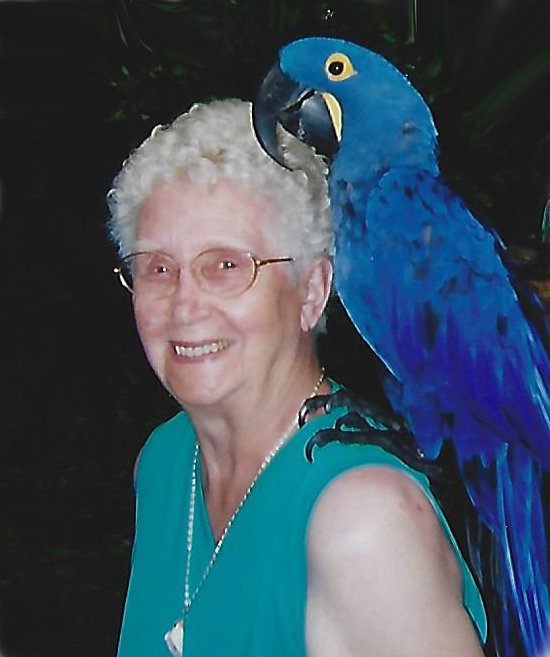 Obituary of Mary Litke
Please share a memory of Mary to include in a keepsake book for family and friends.
Mary Litke was born at Ingebrigt, Saskatchewan (near Fox Valley, north of Maple Creek) on January 1, 1920. She came to Alberta with her parents in October 1925 and attended school at Woodrow. She helped at home until she married James Litke on January 6, 1944. The winter of 1945-46, along with her sister, Alvina, Mary cooked for the miners at LeGears mine. They fed up to fifteen coal haulers as well as the regular crew of sixteen. Needless to say, by the time spring came they were pretty tired of cooking. In 1947 Jim and Mary rented the Sebastian Martin place and then continued to farm for the next nineteen years. In 1966 they built a new house in Forestburg and Jim went to work at Cockshutt Implements. Mary worked with Marion Bevington as a custodian at the school from October 1974 to December 1978. Mary and Jim moved to Big Knife Villa in 1994. Mary resided there until 2016 when she moved to Long Term Care at Galahad Care Centre. Jim and Mary had two sons, Harold born October 26, 1944 and Kenneth, born June 24, 1949. March 27, 1971 Harold married Gail Light and they had two children, Tracey and Scott. Ken married Vicky Dabbs on March 31, 1973 and they had three children, Karen, Kyla and Tanya. Tracey married Erin Tatlock and they had two daughters, Levon and Emily. Levon is married to Nathan Weeres and they have a son, Jayden. They all reside in Calgary. Scott married Krystle and they had a daughter, Scarlett. Scott lives at Kelowna and Scarlett lives at Richmond with her mom. Karen and Greg live at Westminister, MD and have three children, Skye, Rockford and Ruby. Kyla married Derek Wirth and they reside at Whitehorse, YK. Tanya married Derek White and they have three daughters, Chloe, Addison and Kenna. Mary lost her husband on February 23, 1997. She lost her son Harold on December 7, 2004 and her son Ken on March 4, 2007. Despite these terrible losses, Mary picked up the pieces and carried on. At the Big Knife Villa she grew a garden. She even trapped moles who had the nerve to dig in her garden. Just because she was a senior didn't stop her from making some preserves or cooking a pot of soup or baking cinnamon buns. Mary loved to travel. Jim and Mary travelled to Hawaii in 1977. She went to Maui three times after that with Harold and Gail. She loved being there and seeing the beautiful flowers and trees. Mary and Gail liked drinking Maui Blush wine while sitting near the ocean, relaxing and listening to the waves. Jim and Mary took bus tours to California, Florida, eastern Canada and Alaska. They always shared their travel stories with us when they got home. After moving to Forestburg, Mary and Jim built their first truck camper and later bought a bigger one and made many fishing trips to various lakes. If friends or family couldn't go, the two of them would just go fishing. If they caught lots, Mary would can the fish. She liked to go camping with Ken and Vicky and the rest of the family. In the 90's a group of us would camp at Pine Lake for the August long weekend. Then for a few years, Ken's family and Harold's family and friends would meet at Keiver's lake for a weekend of camping together. Everyone was pretty happy when Mary would bring her fresh cinnamon rolls or make us a kettle of "Stuff". That's what the grandchildren call fresh from the garden potatoes, carrots and peas cooked together and covered with cream. Mmm. I remember Ken's cousin Gloria Blumhagen told me once that Aunt Mary made the best fried chicken. Yes, she was right. We were lucky to eat lots of meals with Mary and Jim and Mary was a good cook; lots of home preserves, vegetables grown in her garden and tasty desserts she baked herself. Mary liked to sew in her earlier years. She sewed dresses for herself. After she had children, she sewed the boys' clothes. She even made them "western shirts" with fringes and sewed Halloween costumes. She sewed clothes for the grandchildren when they came along. She sewed quilts and duvet covers for her sons and daughters-in-law and grandchildren. She told me she put together a sleigh with Santa and reindeer and while she built it, Harold sat on her lap. She was creative and built Ken a farm set, with a miniature auger and other equipment. Mary enjoyed reading and putting together jigsaw puzzles for many years until her eyesight deteriorated and she had to quit. Crossword puzzles kept her busy too. She took an interest in card making and scrapbooking in her later years. She was a member of the United Church congregation and was a volunteer on many community organizations. When there was a Family Reunion she was always involved. Never afraid to pitch in to organize or cook or clean up after. She really enjoyed those times with the families. One reunion she brought a toy skunk and when everyone was sitting around the campfire, she managed to place it under a chair. After someone noticed the skunk under the chair and hollered "Skunk" people scattered. She laughed about that for years after. She liked to host Christmas dinners or Easter dinners for her immediate family. She went the extra mile to do things like make jello in little molds so it looked like an Easter egg and placed the jello eggs around a salad. She made "nests" of rice krispie squares and lined the nests with colored coconut and filled the nests with jelly beans. If there was a Pot Luck supper somewhere she would prepare something and they would enjoy the occasion. Mary had laser surgery various times on her eyes. Macular degeneration eventually stole most of her vision. So many of the things she had enjoyed doing in her early years could not be done anymore. She was a diabetic but was very good about trying to eat responsibly and took her medication correctly. She had arthritis in most of her joints which slowed her down. She was still walking with the aid of her walker at the age of 98. Her last year she had to use a wheelchair. Mary celebrated her 100th birthday on January 1, 2020. What a milestone. Think of the changes that have occurred during her life. Mary was a strong woman and a hard worker. She could be stern and abrupt. But overall she was a wonderful person. Loved her family dearly. Boasted about her grandchildren and their accomplishments (as any Grandma can do if they want). There is an empty feeling in our hearts now since she left. She has just always been there. Thank you mom, grandma, great-grandma, auntie, friend for giving so much to us for all those years. We will miss you. She leaves to cherish her memory her daughters-in-law Vicky Litke and Gail Litke, grandchildren Tracey (Erin) Tatlock, Scott Litke, Karen Litke (Greg Whitlow), Kyla (Derek) Wirth, Tanya (Derek) White, great-grandchildren Levon (Nathan) Weeres, Emily Tatlock, Scarlett Litke, Skye, Rockford and Ruby Whitlow, Chloe Wilson, Addison and Kenna White, great-great-grandson Jayden Perkins. Our deepest thank you to the staff and Home Care Nurses at Big Knife Villa for the twenty-two years she lived there. Our deepest thank you to the amazing staff at the Galahad Care Centre for the care and kindness she received the last four years of her life. Due to the COVID-19 pandemic, no public service will be held. Memorial donations may be made to the Galahad Ladies Auxiliary, the Big Knife Villa Handi Van, or to a charity of the donor's choice.
Share Your Memory of
Mary