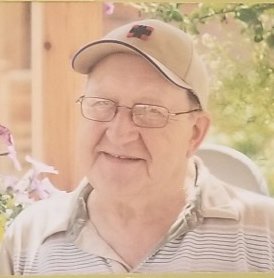 Obituary of Wayne Moody
Please share a memory of Wayne to include in a keepsake book for family and friends.
Morris (Wayne) Moody passed away March 29, 2020 at the long term care Health Centre in Hardisty Memorial Hospital. He was 84 years old. Wayne was born in Hardisty December 11, 1935 to Raymond and Eleanor Moody where he grew up on their farm with his parents and brothers. He later moved into Hardisty and lived with his mother, and then, after she passed away, he lived in the Parkland Manor. As a young man, he loved his dogs, fishing, and hockey. Both he and his brother Cliff played hockey for the Hardisty Stampeders. When he had just turned 20, he suffered a brain injury in a car accident that left him paralyzed on his right side. Through the strength of will and determination, he lived life to the fullest that he could. He learned to drive and helped his father and brother Harold with the farm work. He liked to do puzzles, play cards, and socialize with neighbours and friends. He remained an active member of the community. He was warm-hearted, kind, and was always appreciative of visits from his family and friends. The family would like to express our gratitude to all the staff at the Hardisty Hospital who took good care of Wayne while he was a resident there. Wayne was predeceased by his parents, Raymond and Eleanor Moody, his brother Harold Moody and Harold's wife Aimee and their son Bradley, his brother John Moody and John's wife Lillian and their daughter Valerie Urchyshyn, and his brother Clifford Moody and his grandson Miguel Moody. He is survived by his sister-in-law Miriam Menneses, his nephews Bill, Lee, Todd, Michael, and James Moody and their families, and his nieces Pat Koehler, Bev, Karen, and Brenda Moody and their families. Also great nephews and nieces and their families. Due to circumstances caused by the current COVID19 quarantine measures, the family will have a celebration of life for Wayne at a later date. Memorial donations may be made to Hardisty Hospital Auxiliary if you so choose.