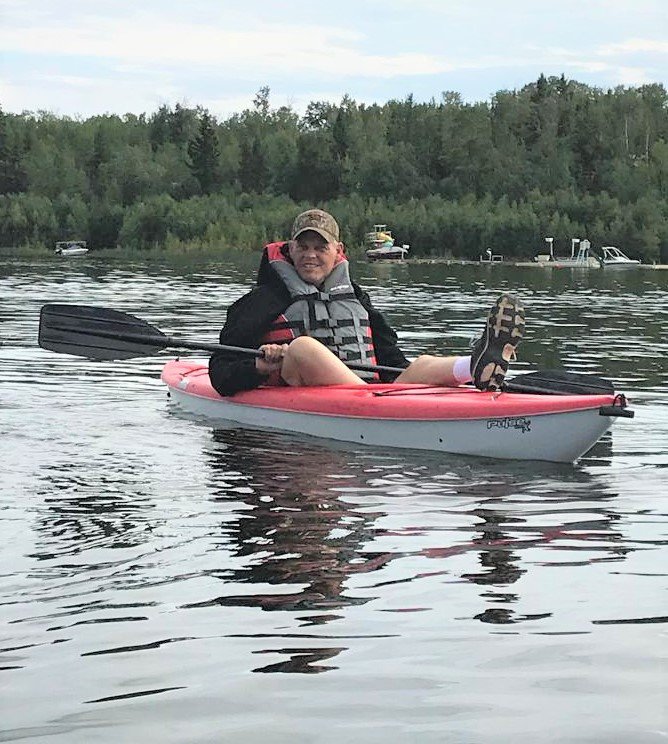 Obituary of Michael Forster
Michael John Robert Forster passed away on December 16, 2018 with his loving wife, Lesley and her sisters, Val and Sandy, by his side.
Mike, as he was known to all, was born in Killam General Hospital on January 26, 1966 to Bob and JoAnn Forster. While he was just over 6 lbs when he was born, he grew into the big, strong, life loving Alberta farm boy with the infectious laugh that we all knew and loved.
Mike's greatest loves were Lesley and their son, Austin. His love for them was deep and full. He and Lesley knew each other almost their entire lives, and you could say that Chris was responsible for introducing them…since she and Les went to kindergarten together.
Mike loved his family and would do anything for them. Just ask Mona and Chris how many times he helped them move…he was close to Mom and Dad, living just a mile away and working with Dad for much of his adult life. If you knew Mike, you could see that he was absolutely his father's son.
We know that Jim and Ruth saw Mike as a son in a sea of daughters, and he was a beloved uncle to James and Hayden. He was a brother to Val, Rick, Sandy and Kim, teasing them as mercilessly as he did his own sisters.
Mike loved to farm, and he took great joy in seeing the crop come off each year…this year, he was especially happy to finally see the crop come in, as were we all. It was a time of great celebration in the Forster household to see the bins full after such a tough harvest!
Whether you knew Mike or not, you would remember his laugh. It was infectious, you couldn't help but laugh with him. Even if he was laughing about you!! He was a great tease and knew which button to push. Because that's what brothers do.
He had a fun sense of humour, loved telling jokes, was always on the hunt for the next corny joke and particularly enjoyed teasing sister Chris about being blonde! Austin has inherited his love of the corny joke since he discovered Hee Haw a few years ago and family gatherings haven't been the same since.
Give Mike something to drive and he was all over it. It started with the garden tractor – if you never saw one spin out, you didn't see Mike drive one…and it just carried on from there. He loved to go FAST! Many of you will remember the trucks, the motorcycle, the snowmobiles, the quads, and who can forget the GTO and the LTD…all these while driving our parents crazy as well as scaring the daylights out of us when he took us for a ride. We reminisced recently about the shenanigans that Mike and his buddies would get up to – often involving some time at the Killam Hotel.
Forster Hydrovac Services was a source of pride for Mike, and he worked incredibly hard to build that business. Mike saw the value of hydrovac trucks over 20 years ago and he and Dad bought some of the first trucks in the district. Whether working at the power plant or one of the many communities around the county, Mike was an expert operator and handled the trucks with confidence born of years of experience. He enjoyed the camaraderie of working with Kyle and the guys, whether at the power plant, a job site or at the shop on the farm. He learned the fine art of BSing from Dad and carried on the tradition.
When he wasn't working so darn hard, he loved getting to the lake, getting some fishing in when he could, and even became something of an expert outhouse installer?
It's hard to come up with just a few words to cover his life. We all have great stories about Mike, Mikey, or Michael – Michael John Robert when he was in trouble… He was husband, son, brother, uncle, and friend to many…but Daddy was his favourite role. We will always miss you and love you!