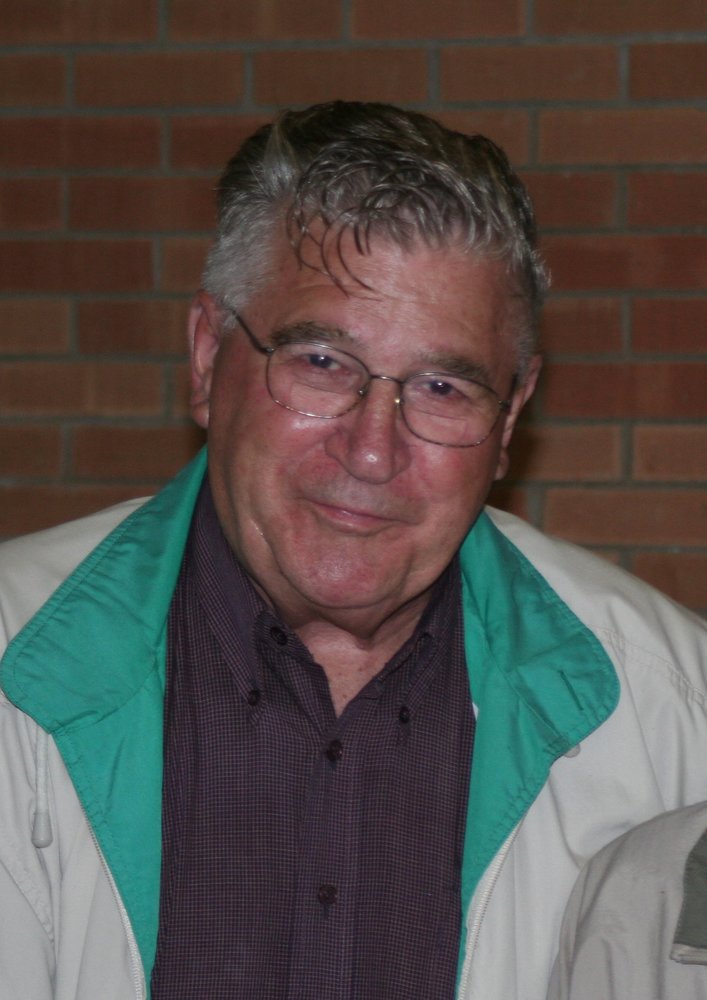 Obituary of Melvin Kuefler
Melvin John Henry Kuefler was born November 21, 1926, to Frances and Peter Kuefler at the Forestburg Cottage Hospital. He was called "Mel" by his family and friends. He passed away at the age of 91, in the Ponoka Centennial Hospital. He was predeceased by his wife Johanna, daughter Linda, brothers Alan, Walter, and Patrick, stepdaughter MaryLynn Edinga, son-in-law Gary Fink, grandson Connor Charlton, and brothers-in-law Lorne Kroetch and Armand Perreault.
He was survived by his wife Theresa; his children Wayne (Marie) Kuefler, Brian (Frida) Kuefler, Brenda Fink (Brian), Karen (Robert) Cameron, Eldon (Margaret) Kuefler, Irene (Jim) Slavik, Paul Kuefler, Michael Kuefler (Grace); his stepchildren Doug ( Irene) Kroetsch, Ken (Yvonne) Kroetsch, Dennis (Noreen) Kroetsch, Margaret (Nick) Morin, Yvonne (Harry) Robinson, Deanna (Ken) Vaters, Tom (Milaysis) Kroetsch, Don Kroetsch, Cam Kroetsch; stepson-in-law Lorne Edinga; 60 grandchildren, 77 great-grandchildren and 1 great-great-grandson; siblings Don (Catherine) Kuefler, Doris Kroetch, Lorne (Elizabeth) Kuefler, Doreen (Tom) Brown, Erwin (Sharon) Kuefler, John (Bernice) Kuefler, Jane Johnson; two sisters-in-law Leona Kuefler and Leola Kuefler.
Melvin was the oldest of eleven children. He grew up in Galahad and helped his dad on the family farm. He was mechanically inclined and took on fixing the farm machinery.
In 1948 he met Johanna Badry and they were married November 15, 1951. They started their life together east of Alliance farming for his Uncle Mike Kuefler. They started out with no power and water.
After 4 years they moved back to Galahad. He helped with the construction of the new Catholic Church, Hospital, School, and the town hall in Galahad. He looked after the Town's water supply. He had his carpentry license, a plumbing and gas ticket, and building Boiler Pressure B ticket. Whenever the phone rang and someone needed help he was always willing to lend a hand. The Sisters of St. Joseph needed a maintenance worker and along with his brother Erwin they worked on all the upkeep and upgrading of the hospital.
His wife, Johanna, was diagnosed with Breast Cancer and passed away on January 8, 1989. He retired in June of 1990.
After a time, he dated Theresa Kroetsch. They were married on July 7, 1990, and resided in Galahad. With the joining of the marriage, they now had 18 children. They bought a motorhome and many miles were made with it. There were lots of campouts with family and friends.
In 2011, they moved to Killam. He loved his heated garage where he kept busy building things for his children and grandchildren. Throughout his life, he enjoyed singing in church, dancing, ice cream, curling, bowling, golfing, fishing, and a good game of cards.
In August of 2012, he suffered a life-altering stroke. He spent a couple of years at home and in 2015 he became a resident of Killam Long Term Care. On October 26, 2018, he passed in Ponoka Centennial Hospital surrounded by family. He was dearly loved by his family and he will be remembered every time they look at something that he built for them.
A funeral service will be held on Saturday, November 3, 2018, at 11:00 a.m. from the Killam Catholic Church. Interment will take place in the Galahad Cemetery. Memorial donations in memory of Melvin may be made to the Alberta Heart & Stroke Foundation, the Cross Cancer Institute or a charity of the donor's choice.