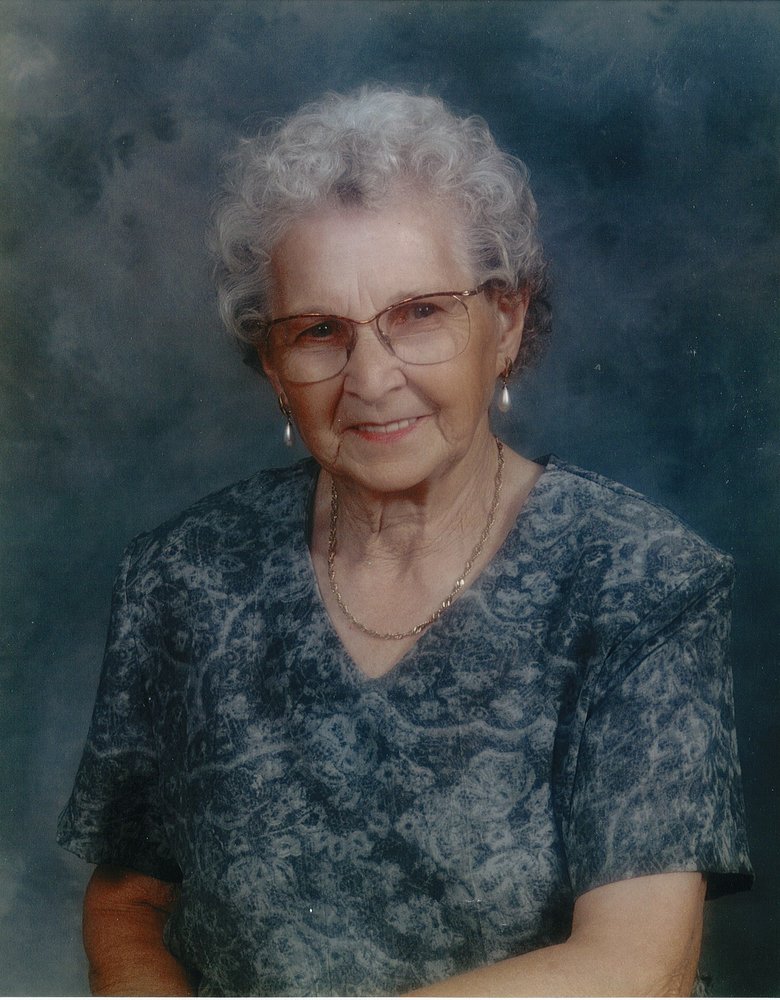 Obituary of Helen Andersen
Helen passed away on June 19th, 2017. She leaves to mourn her sons and daughters-in-law Carl (Marion), Dave (Sharon), brother in law Ed Fenske and numerous nieces and nephews. Helen was predeceased by her husband Carl and brother Alec, infant baby sister Mary, sisters and brother in laws Agnes (Joe) Kreiser, Frances (Jim) Nelson, Anne (Willard) Sawyer, Lillian (Andy) Kortgaard, Jean (Bill) Mckay. On Carl Andersen's side of the family Toots (Mel) Lee, Dagnie Fenske.
Helen was born on July 16, 1928. Helen was the sixth child of Michael and Mary Kuczma of Altario, Alberta. Helen enjoyed her early years in Altario growing up with her five sisters (Agnes, Frances, Anne, Lillian and Jean) and her brother Alec.
Her dad Michael worked on the railroad, owned and operated the local livery stable, pool hall and hotel along with raising purebred Angus cattle. Helen's mother Mary helped with all these endeavors with the exception of working on the railroad, along with growing a garden and raising kids. Mary also made sure that nobody left their place with an empty stomach. Helen, her brother, and sisters grew up with this strong work ethic where everyone chipped in with great vigor at whatever tasks needed to be done. Helen also fed everyone that came through the door and quite often sent them out with a lunch to get them home with. Helen was famous for whipping up quick meals for however many people that came through the door and the food was great! She made a point of giving this same treatment to all the animals around her getting great joy in feeding the dogs, cats, donkeys, horses, and cattle. Helen not only picked all the crab apples from her yard but bought apples from the store when on sale to feed the horses and donkeys. Helen enjoyed this to the end.
In the early years in Altario Helen enjoyed playing pool with her sisters. When Helen and her sister Jean were young they stole a monkey from the travelling circus at Altario. Their mother did make them return it.
Helen met Carl Andersen in Altario and a romance developed that led them to the altar in 1950. They lived in Loreburn, Saskatchewan in the first few years and settled in Hardisty around 1953 where Carl worked for Interprovincial Pipelines. They had two children, Carl Jr. and David. Helen and Carl both lived the rest of their lives in Hardisty. Helen and Carl enjoyed their time in the big gardens they had by the railroad tracks and on Carl Jr.'s farm. Carl predeceased Helen and passed away July 13, 1996, having been married for forty-six years. Helen continued the gardening with her German Shepherd Chrissie after Carl was gone.
Helen was an avid bridge and cribbage card player and was a member of the Hardisty Bridge Club for years. Up until the end, Helen still enjoyed a game of crib. Another love of Helen's was attending the St. Paul's United Church in Hardisty where she met many lifelong friends. Helen was an avid outdoorsman who enjoyed fishing and hunting. She was not a good conservationist as her idea of a limit was when the deep freeze was full. If the deep freeze was full another solution was to buy another deep freeze. Helen could skin a deer or clean a fish quicker and better than most men, then process and cook it in a manner that would make most chefs envious. When Helen wasn't trying to preserve food for the whole community she really enjoyed her flower garden. Carnations were her favourite but as long as it bloomed she had a place for it.
If Helen liked you she would typically offer you a pail of clover honey from the Dawson Creek area. Helen bought pails of this honey to give out. Her favourite line in recent years "Would you like a pail of honey?"
In later years Helen enjoyed vacationing with her sister Jean and her husband Pete. There were enjoyable trips taken to Alaska, Ontario, Arizona and other locations. Helen enjoyed seeing all these places, experiencing the food and cultures. What she enjoyed the best was coming home!
The family would like to say thanks to Rose Sheen and the Drozdowski's for watching out for mom while she was still at home. The staff at the Hardisty Health Centre showed great care and compassion to mom. Mom said they sure treat you good in here and boy is the food ever good in here! Other thanks to everyone in the community who has given mom a ride home or watched out for her along the way.
A funeral service will be held at 2:00 p.m. on Monday, June 26, 2017, at the Hardisty Community Centre. Memorial donations in memory of Helen may be made to the Hardisty Auxiliary Hospital, the SPCA or the St. Paul's United Church.