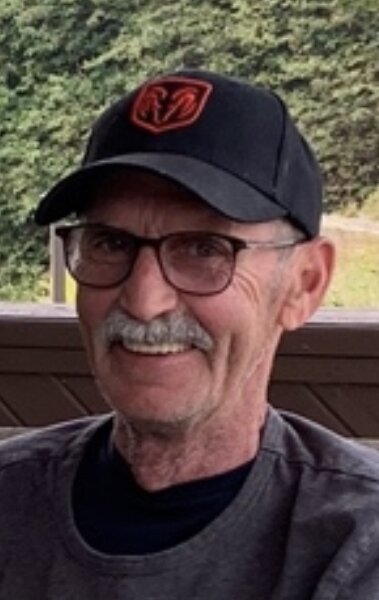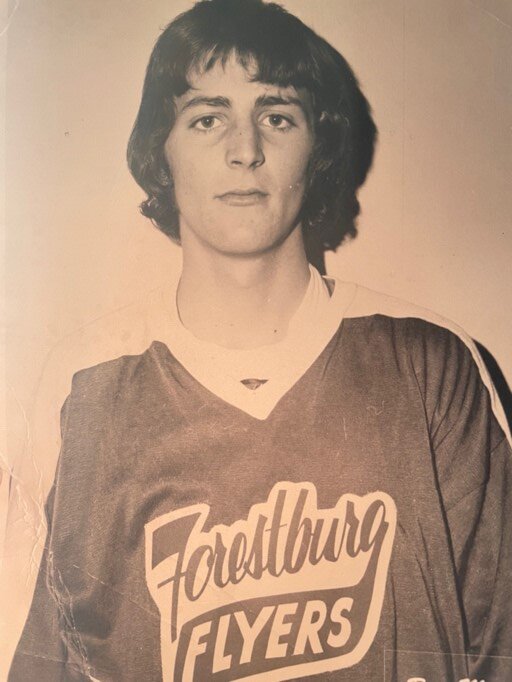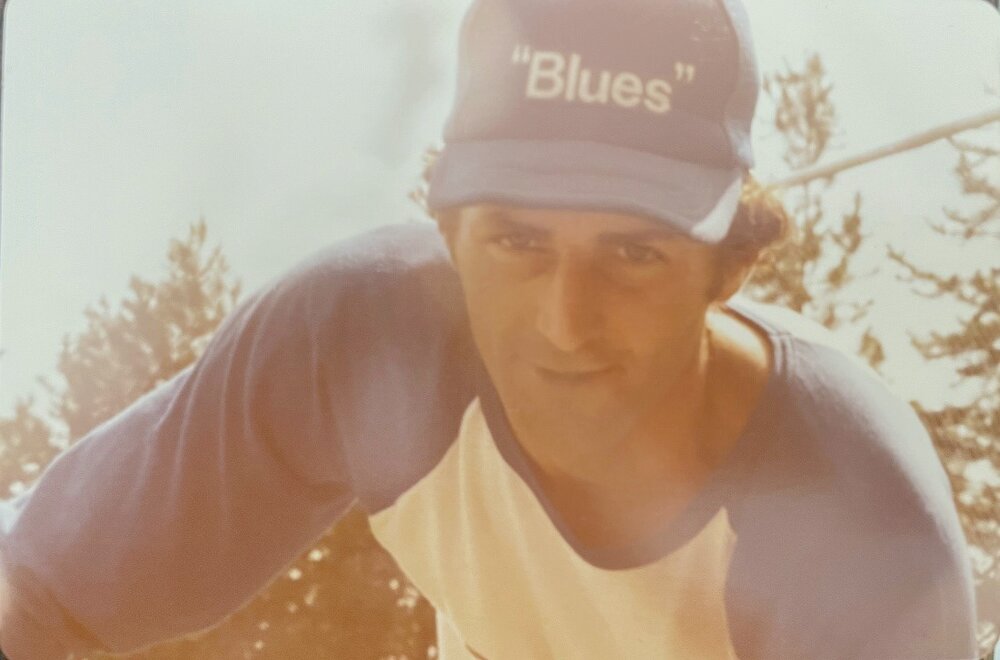 Obituary of Lynn Ponto
On Saturday, August 20th Lynn Allen Ponto, loving husband, dad, grandfather, and brother passed away at the Killam Long Term Care Center. Lynn was preceded by his parents Berthold and Sylva Ponto, and his brother Brian.
Lynn was born in the Galahad Hospital on April 26, 1955. He then lived on the family farm south of Galahad as a child and eventually raised his family there. His parents Berthold and Sylva Ponto raised four children, Brian, Shirley, Colleen, and Lynn as the baby boy of the family. He was always surrounded by many cousins and friends. As a young kid he enjoyed Sunday School as well the many family picnics down by the river, where he received a plaque for perfect attendance, which read BE THEE KIND, a motto which he lived by. As a child he also enjoyed riding horses with his many cousins, and attending Scouts led by his cousin Grant Jackson.
From a young man Lynn embraced every sporting activity from Gymkhana, to jockeying for Mel Behnke, and other horse owners. He also loved playing hockey in his youth and would make arrangements to get to the games by asking for rides to Forestburg and then staying at Shirley and Wayne Helmigs until the weekend was over prior to getting his driver's license.
Lynn loved and excelled at school sports, from junior curling to volleyball, while basketball was his favourite. He never did forgive Ray Bowersock coach of the Forestburg Falcons for putting wax on the gym floor costing Galahad to lose the basketball finals.
Lynn wore many hats throughout his life, he worked on a dude ranch down south in the summer as a 14 year old, was a jockey before he grew a foot one year in high school, he drove school bus his grade twelve year. After graduating he worked at the elevators for many winters. He worked for McNabb construction and Forestburg transit mix while farming with his dad. Later being hired by Larry Schroeder to work for Manalta mine. He took much pride in showing up almost too early for work most days, as this allowed for longer coffee's and more small talk, while doing so he made many new life long friends. Hoping upon retirement he would be Bob's hired hand and still get to be on the farm. Once a farmer always a farmer.

Lynn picked Linda to be his partner in crime and lifetime friend and love. They were married on June 18th, 1976. Their wedding present to each other was a boat. Lynn kept track and one year they had gotten 38 different people up behind the boat, all while the babies slept under the dash.
Lynn became an avid hunter in his 20's thanks to Allen Roth. It was probably some of Lynn's happiest times teaching the boys to hunt and harvest animals. Eventually as the boys got older, he had nobody left to hunt with at home so he finally got Linda into hunting and had somebody to still share his passion with. He always hoped Sidney would get the itch, but figured that ship has sailed.

Raising a family while playing senior hockey, curling competitively, and coaching minor hockey left little time for work! Leaving the curling rink one evening Nicholas about 4 said dad, "when I grow up, I want to be just like you. I'm going to play ball, hockey, curl and farm a little bit too!" Auntie Judy agreed!

Together they had three busy children, Nicholas, Mathew and his little princess Sidney as he called her. Coaching the boys' hockey while they grew up was one of his favorite things, when they were really small, he even flooded the alley way in the barn so they could learn to skate. As well, when Sidney was growing up and the boys were gone, he even got to coach the first all female team in Forestburg. Mentoring all kids as he grew up was truly a passion for him, as they grew older, he still loved watching them succeed in anything they put there minds too.

Those of you that knew Lynn would know he was a unique individual. He never quit bragging about that one in particular hockey or volleyball game he or his kids won or received accolades for. Knowing the exact date and time the event took place, along with the dates of every birthday anniversary of family or a friend. But if you asked what the kids did for a living, he would say ask Linda.

Nick surprised his dad when he chose university over hockey or should we say blew his mind. He was very proud though that his son went into Mining Engineering which sat very dear to his heart. Lynn was wishing Nicholas and his family just lived closer. You know that's a three-hour drive to Calgary! Lynn loved Nick's wife Linette. He loved having his own personal nurse and the special attention she gave him, with her gentle and kind demeanor. They shared a unique bond.

Nothing made Lynn happier than the return of Mathew and his family close to home. Drop in's were a favorite of Lynns – but he usually came with a plan – offering to cut grass, taking the bottles to the bottle depot with the boys, checking in with the horses and barn cats or kindly mentioning his body was sore and that a massage Bridgette gives would feel nice. Getting to watch Mat play hockey while back in Forestburg was really special to both of them. Having some grandkids close to home really brought out the kid in Lynn as we know he always was up for having fun and making them all laugh. Mats wife Bridgette remembers the very first trip to the farm, Lynn couldn't wait very long upon their arrival before he asked her for her date of birth so he could get her set up with a WIN card and could get her in for a few hunting draws. Every time they came to visit, he was happy to clean their car and share the names of his cats in the shop with her and his love of animals.
Lynn loved watching Sidney compete over the years in many Volleyball tournaments across Western Canada, he truly loved that his kids loved playing many sports as much as he did. He was very grateful he was still healthy enough to give his princess Sidney away to the young man he would now call his 3rd son Nolan. He wasn't able to convert Sid to a hunter but was able to get Nolan his first deer after a few years of meeting him. Nolan and Lynn shared the same passion of baseball and had many conversations over the LA Dodgers aka the Lacombe Dodgers, who Nolan played for. Nolan might not have known Lynn when his health was in top form but graciously put up with his odd idiosyncrasies (or Silly Habits).

Lynn had many hardships throughout his life but not many where aware as he was the first to offer help to those in need themselves, whether he could afford to or not. Freeps Muck Boots were a true reflection of this, he loved getting people into muck boots more than collecting money or making a profit. He was always happy and proud when he saw that he was able to put you in a pair!

Lynn's struggle began much earlier than we all knew, surprising his many doctors that he was still able to work operating machinery at the mine. After doctoring for about five years and Lynn keeping his secret that he said something is going wrong with my head, they finally gave us his diagnosis which was to his family and friends earth was shattering. Taking away the opportunity to work and then not being able to drive was really hard for him as that's all he knew and would miss the interaction with all of the friends at the Mine.

Near the end of his time, he became very anti-social knowing that he could no longer cover his memory loss and that stories which he loved to tell no longer flowed like they used too. He tried to hide his disappointment and disease but he digressed quickly. He so wanted to watch his grandchildren grow up and teach them the things he loved but knew that dream was coming to an end.
Lynn loved life, played hard, treated people with kindness and for that we will always be thankful. Special thanks to Dr. Sam Ogbeide, Dr. Tim Hanton, and the staff at the Killam Long Term Care Center to those who went above and beyond.
Memorial donations in memory of Lynn can be made to Stars Air Ambulance, the Forestburg Multiuse Facility or a charity of the donors' choice