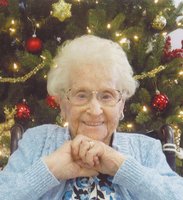 Lorraine Zimmel
Lorraine Frances Zimmel was born to Reinhard and Ida Vos at Strome on December 6, 1919 and passed away peacefully at Killam Continuing Care on Tuesday, November 12, 2019 at the age of 99 years.
Left to cherish her memory are her five children Dianne (Joe), Rod (Sherry), Jerome (Cheryl), Grant (Denise) and Sharon, sister Beatrice, sister-in-law Henrietta, 18 grandchildren, 37 great-grandchildren, 6 great-great-grandchildren and numerous nieces and nephews. Lorraine was predeceased by her husband Norman, son-in-law Garry Bendfeld, siblings Emma, Frances, Mary, Clarence, Julia, Bernard, Gladys and Caroline.
I've learned that people will forget what you said, people will forget what you did, but people will never forget how you made them feel - Maya Angelou
Mom made everyone feel special through birthday cards, gifts, decorated cakes, delicious meals and clothing she sewed. She was always ready for a friendly, but competitive game of cards and weekly bingo was a given. Laughter and good conversation around the table and many trips were enjoyed with family and friends. Her infectious smile and twinkle in her eye, will be remembered by all. We will miss her thoughtful nature. Her wisdom and faith will be treasured. Blessed be her memory!
A Prayer Vigil will be held at Our Lady of the Prairies Church, Daysland on Friday, November 15th at 7:00 p.m. Mass of Christian Burial will be held at Our Lady of the Prairies Church on Saturday, November 16th at 11:00 a.m. Memorial donations in memory of Lorraine may be made to a charity of the donor's choice.