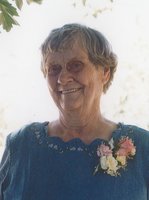 Bertha Palmer
Bertha Palmer was born June 29, 1917 at home and passed away November 3rd, 2019 at Bashaw Meadows at the age of 102 years, 4 months.
She was the fourth child of twelve born to Beatrice and Horace Vincett and was raised on the family farm north of Galahad. She married Leslie Palmer on June 29, 1942 and they made their home on their farm north of Killam. She leaves to mourn her passing her children - Shirley (Geoff) Winter; Jean (Keith) Brennan; Dave Palmer; Hugh (Christine) Palmer; Dale (Val) Palmer; Donna (Ron) Ramsey; Becky (Dave Cunningham); Sheila Scharmann; Ron Palmer; 15 grandchildren: Kathi (Scott Chant)Winter; Kevin (Selena) Winter; Kimberly (Chris Becker) Brennan; Corey (Morgan) Brennan; Rob (Laurie); Palmer, Rhonda (Stacy Phillips) Palmer; Tahnis (Ray Bell), Cunningham Ceileigh Cunningham, Jesse Cunningham; Adam, (Adrianna) Scharmann, Eric (Chalsey) Scharmann, Craig (Rachel) Scharmann, Lee (Felicia) Palmer, Kasey (Hope) Palmer, Matthew Palmer: 9 Great-grandchildren Brenden, Sarah, Kobi, Colin, Amyah, Max, Tyler, Nora, Visinia. Also, her brother Richard, sisters-in-law Mil Vincett, Ida Vincett, Blanche Vincent, and many nieces and nephews.
Bertha was predeceased by her husband Leslie, son-in-law Fred Scharmann; granddaughter-in-law Melodie Brennan; brothers and sisters Helen, George, Ethel, Horace, James, Walter, Fred, Dave, Dorothy and Mabel; her in-laws Lloyd Brown; Aileen Vincett; Wilfred Widlake; Dick Black, Alice Vincett, Glenn Lunty, Merle Vincett; Elmer Thomsen; Leslie's family, Lloyd and Edna Palmer; Helen and Ernie Fradette; Bill and Anne Palmer.
Bertha lived all her married life on the farm north of Killam. She loved working outdoors, milking, looking after the chickens and pigs and grew a large garden. Dad and Mom created a park-like setting in the yard, planting, tending and watering hundreds of trees. Several generations of family are now benefiting from our parent's labours. Mom was a seamstress, knitter and quilt maker. Mom worked on the creation of the Killam History Book and read the stories over and over, gaining much enjoyment in the reading. Bertha volunteered at Twice Nice and in later years she enjoyed singing with a group of seniors from Strome and attended the quilting group at Knox United. In her mid-nineties she reluctantly agreed to move to an apartment in Killam, a couple of years later moved to Big Knife Villa Lodge in Forestburg and in May of 2015 she went to live and be cared for at Bashaw Meadows. Mom was never fully reconciled to living anywhere else but the farm, and when asked how she liked her new home, she would reply very sharply - "my home is on the farm".
Bertha passed away peacefully under the compassionate, tender care of staff at Bashaw Meadows. We will miss this strong, courageous woman.
Interment of Ashes will take place at the Wavy Lake Cemetery at a later date.
Our gratitude and thanks to the staff at Bashaw Meadows, to Rev. Scott Reynolds, to Rev. Deanna Cox and Knox United Church Ladies. Special thanks to Laurie Palmer for her caring, professional help.
A memorial service will be held at the Knox United Church, Killam on Saturday, November 16, 2019, at 2:00 p.m. Memorial donations may be made to the Bethany Group, specifying the Bashaw Meadows Endowment Fund or the Killam & District Health Care Foundation or the charity of one's choice.