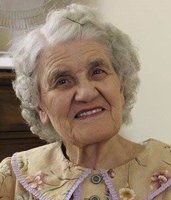 Alma Abbott
Alma Abbott was born on March 23, 1925 near Riviere Que Barre, Alberta, to Hans and Kate Danielson. She grew up on a farm with 14 siblings and learned the value of hard work at an early age, preparing meals, milking cows, washing clothes and gardening for a large family. She walked to a country school and was a conscientious student in spite of inheriting a gradual blindness known as retinitis pigmentosa. In her youth, she trusted the Lord as her personal Saviour and lived the rest of her life with a desire to please Him. Unable to see the blackboard to be able to finish high school, she took a couple of years of Bible school at Prairie Bible Institute in Three Hills, Alberta. She later found work at Bethany Homes for Children near Wetaskiwin and then filled other roles as a nanny and in elder care. In 1953 she met and married Lawrence Abbott after having met him while caring for his mother who was an invalid in a rest home in Edmonton. As a mother of seven, she dutifully cared for her family and often challenged them to memorize scripture which had become her passion after raising her children. She was a faithful grandmother to her many grandchildren and great-grandchildren and often invested in their lives.

Predeceased by her husband, Lawrence, in 2009, she is survived by her seven children, Harvey (Cheryl), Daniel (Janet), Edith Manyo (Charles, deceased), Vernon (Lorie), Ervin (Sandra), Faith Miller, and Sylvia Szucs (Kal), 25 grandchildren, 28 great-grandchildren, two sisters (Edith Olsen of Daysland and Ella Hanks of Wetaskiwin) and many nieces and nephews. Her daughters-in-law blessed her in many ways by going above and beyond.
Alma made many friends at Golden Hills Lodge where she made her home after losing her husband. She had one special friend, Arthur Rashleigh, and enjoyed many hours of fellowship with him, memorizing Bible passages and singing hymns until he passed away earlier this year.

She departed this life for her heavenly home on November 3, 2019, after a brief stay in the hospital. The family expresses their deep gratitude to all of the medical staff who went above and beyond their duties to care for her in her final days at both the Three Hills Health Centre and the Red Deer Regional Hospital Centre.
A funeral service will be held at the Killam Baptist Church on Saturday, November 9, 2019 at 2:00 p.m. Memorial donations in memory of Alma may be made to the Killam Baptist Church.