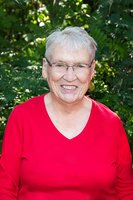 Sheila Child
Sheila Jean Baker was born in Burdett, AB on December 27, 1925 to Charles Edward Livingstone Baker and Elizabeth McCook-Baker and died peacefully at the Royal Alexandra Hospital in Edmonton, AB on October 30, 2019 at the age of 93.
Sheila grew up living in train stations around Alberta. Her family eventually settled in Killam. She took her high schooling at Central High and then went on to Alberta College and Olds College. She returned to Killam, married Albert Child and they settled on the Child family farm.
Many things were important to Sheila, most notably music, church and family. Growing up she spent much time studying music and piano with the Royal Conservatory and went on to use her talent to play for many church services, weddings, funerals and Remembrance Day services. Time with family was something she dearly treasured. In recent years, she could often be found near a puzzle with many great-grandchildren close by.
She is survived by her 3 children, Sandra (Ross), Barb (Don) and Rick, 10 grandchildren, 15 great-grandchildren and 3 great-great-grandchildren.
Sheila was predeceased by her husband Albert, parents Bessie and Bake, her twin brother Bruce and his wife Doris, her sister Nan and her husband Gordon, her daughter-in-law Sharon and her granddaughter-in-law Jenn.
A Celebration of Life will be held at Fee & Sons Funeral Home on Saturday, November 2, 2019, at 1:00 p.m. Donations in honour of Sheila's memory may be made to the Killam Cemetery or the Bissell Centre Edmonton.