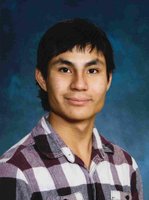 Jason Fawcett
Jason Richard Arthur Fawcett was born on July 26, 1997 in Winnipeg, Manitoba, and passed away suddenly in Camrose, on October 29, 2019 at the age of 22 years.
Jason grew up in the Strome area and attended Strome school and then Daysland for high school. He was active in Tae Kwon Do, gymnastics, parkour and 4-H. Jason was an avid member of the Killam Light Horse club as well as the Wavy Lake Beef club. He was a natural horseman and loved all the animals on the ranch.
Jason is survived by his parents, Mike and Cindy, his younger brother, Ethan and his grandparents, Art and Judi Hildebrand, as well as a large and loving extended family and many friends.
A Celebration of Life will be held at the Strome Community Hall on Tuesday, November 5, 2019, at 2:00 p.m. Memorial donations may be made to the Canadian Mental Health Association Alberta, 4-H Foundation of Alberta or a charity of one's choice.