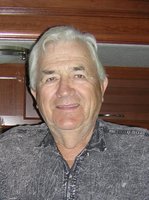 Jim Butcher
James (Jim) Patrick Butcher was born on October 11, 1931 in Lougheed, to parents Ned and Patsy Butcher. He grew up on the farm with his older siblings Margaret, Jack, and Ted. Jim passed away peacefully, surrounded by his family on October 27, 2019 at the age of 88 years old. Jim married the love of his life, Carol (Inks) in July of 1955 and had one son, Rick.
Raised on a farm North of Lougheed, Jim spent his working life as a proud farmer. He had gumption and loved working with his hands. He was a great community supporter and was always ready to lend a helping hand. Jim was well liked by young and old and will be remembered fondly for his hearty laugh, his beautiful singing and his general love of life. He loved farming, fishing, ball games, dancing and being surrounded by loved ones.
Left to cherish his memory are his wife of 64 years, Carol; his beloved son and daughter-in-law, Rick & Siobhan; his much loved grandchildren Sean & Chelsey, Richelle & Jeremy, Craig, Janine, and Jacqalyn & Randy; his 6 great-grandchildren Sloane, Zane, Marshall, Grady, Gavin and Emmett; and numerous nieces, nephews, cousins, and great friends. He was predeceased by his parents, all of his siblings, and his nephew, Bob.
Above all, Jim will be remembered for the love he showed his family, as well as the generosity, hard work and pride he demonstrated throughout his life. He will be greatly missed.
The family will host a gathering to celebrate Jim's life at the Lougheed Community Hall, on November 9, 2019 at 2 pm. There will be music and refreshments.