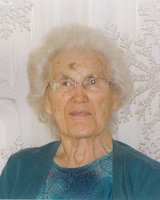 Elvina Buchholz
Elvina was born to John and Pauline Seitz in Little Blume, Alberta on March 9, 1929 and passed away on October 25, 2019 in Killam, Alberta at the age of 90 years.
She is survived by her children Dave Buchholz (Bernadette) of Forestburg, Garry Buchholz of Killam, Darrin Buchholz (Michelle) of Galahad; son-in-law Doug Hays of Forestburg; grandchildren Christy Clarke (Jim) of Red Deer, Dan Puffer of Red Deer, Kyle Buchholz of Olds, Hannah Buchholz of Olds, Brad Buchholz of Galahad, Mark Buchholz of Killam; great-grandchildren Harrison and Hailey Clarke of Red Deer; step-grandchildren Tara Jenner of Cold Lake, Landon Harvey of Medicine Hat; sisters-in-law Nelly Seitz of Medicine Hat and Maryanne Seitz of Strathmore.
Elvina was predeceased by her husband Clarence on September 4, 2011; her daughter Carol Hays on June 4, 2015; four brothers and three sisters.
A funeral service will be held at 3:00 p.m. on Tuesday, October 29, 2019, at the Galahad Agriplex. Memorial donations may be made to the charity fo the donor's choice.