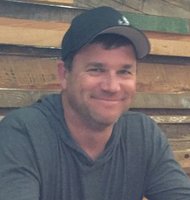 Rick Scheler
Rick Scheler was born in Daysland, Alberta on March 10, 1973. His arrival completed Gary and Carol's family and turned Rob into a big brother. Rick grew up on the family farm west of Forestburg, and was surrounded by grandparents, aunts, uncles and cousins. Rick and his brother were big helpers on the farm. They learned how to do just about everything at an early age and to help out when and how they could. During this time, he was a 4-H member, a snowmobile/trike rider and he began his lifelong love of the outdoors…hunting and fishing became a passion. At 16, he bagged his first trophy bighorn sheep while in the back country with his best friend and mentor Bob Damberger.
When he was still a very young man, Rick met Candy, his love and partner for life. They were each other's support through college, and they started a life together. Family soon followed with the arrivals of Derek, Curtis and Jared. They spent a great deal of time at the family farm when they lived in town, but a dream was realized in 2004, when they built their own farm yard. Rick and Candy built a home and a place to be proud of together. What started as a field, evolved over the last 15 years to the show place that is there today. Not only did he love and baby 1500 stick trees that were planted over 2 days, but last year he finished his shop. With herculean effort, he and Candy were ready to host Gary and Carol's 50th wedding anniversary last July. To say the shop and the shop bathroom are works of art, would not be an exaggeration. He had big, big plans for that shop for his retirement. One of his dreams was to restore old vehicles…we know his collection was a work in progress, but pride of place at this time belonged to his Red Ford.
Rick was an involved Dad to his 3 boys-a great mentor and teacher. They all have wonderful stories of camping, hunting and fishing, the mechanical and woodworking skills he shared, and his belief that a job should be done well. They all knew that they were loved.
Rick enjoyed snowboarding-he went on trips with family and friends, and had a group of buddies that would go on snowboarding trips together. He enjoyed boating, fishing, hunting, camping (but don't try to roast a marshmallow with his hotdog sticks) telling stories around the fire, his pets, farming, the outdoors and Saskatoon pie. He made a mean cup of coffee and even though he was a diehard Bacardi and Pepsi guy, he was enjoying the experience of trying new craft beers. He was happiest in the country-he had a small tolerance for crowds, but he genuinely loved his people. Rick and Candy were travellers, and they loved to go to new places and try new things. His current happy place was tinkering in his new shop and he loved to settle history arguments with "the blue book". Rick found it difficult to leave a job unfinished. He was the guy who didn't like to see others struggle and he would help out if he could.
Rick completed the Heavy Oil Operations Technician program through Lakeland College's Lloydminster Campus. He worked as an operator in the Provost area to start with, and then in the Alliance/Forestburg/Galahad area. He was a conscientious operator, who would always lend a hand to his fellow employees. He did not like to leave a job undone, or a buddy alone to finish. We know he considered his co-workers friends.
Rick was not only an asset to his family and his place of employment; he was a huge support and gift to his community. When hands were needed, Rick provided a willing pair. He was a 4-H Outdoorsman Leader in the Forestburg Multi Club, a former board member of the Alliance Ski Hill, and a former Ski Patrol member at the hill as well. Most recently, he had become a volunteer firefighter for the Forestburg Volunteer Fire Department and he loved it. He was a willing volunteer, with a ready smile and a can do attitude, wanting to do and learn what he needed to do the best job possible.
Rick was predeceased by his Grandparents; Hardy and May Scheler and Alan and Dorothy Brennan; his Uncle Doug Scheler; and cousin Dan Schmaltz.
He will be greatly missed by his best friend and loving wife of 24 years, Candy; his sons Derek, Curtis and Jared; his parents, Gary and Carol; brother Rob (Heather) niece Alaire Grace; and a host of Uncles, Aunts, Cousins and Friends. His passing has left a huge void in our family and our community. We, his family, are grateful for the outpouring of love and support that we have received. It is appreciated.
A Memorial Service for Rick Scheler will be held at the Forestburg Community Hall on August 8, 2019, at 2:00 pm. Please dress casual if attending.
Memorial Donations in Rick's memory may be made to the Community Enhancement Fund designated to the Forestburg Fire Department; the Heart and Stroke Foundation or a charity of the donor's choice.