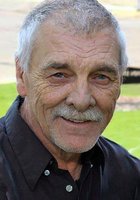 James Williams
Herbert 'James' Williams was born Aug 23rd, 1952 in St. John's, Newfoundland – on "The Rock" as they call it back home.
He was in the Flooring Industry working as a carpet installer for most of his life. He travelled across the country and settled in Calgary, AB. James married Carol Gordash May 2nd, 1992. They were blessed with two amazing children, Amber Nicole & Jordan James.
They moved to Sedgewick in 2009, where James started his reno business and was known locally as 'Handyman James', making a living helping his neighbors and community.
James had a long battle with cancer of which he lost May 31st, 2019.
He is deeply mourned and missed by his wife, Carol, daughter Amber, and son Jordy. His sister Linda (Bill), brother Chris (Bernadette), sister Gail, brother Paul (Leslie), brother Tony (Deb), sister Roxanne (Keith), sister Kim (Gordon), and daughter Cyndy & granddaughters, In-laws: Ann Ekelund, Mike & Jean Gordash, Karen Gordash, Donald & Reeva Gordash, Betty & Ken Towers, Joy & Ron Brilz, David & Lori Gordash. Numerous nieces, nephews, great nieces and nephews, & great-great nieces and nephews.
We would like to express our greatest thanks and appreciation to all our families and friends for their love and prayers for James and us during his battle.
To the Doctors, Nurses, and Staff the Cross, Kaye, Royal Alex and Killam hospitals, for their care and compassion.
A celebration of Life will be held at the Killam Knox United Church (4930-49 st.) Saturday Aug 3rd, 2019 at 12:00 noon.
Memorial donations in memory of James will be accepted at the ATB for James's son Jordy, in the "Jordan Williams In Trust" account.