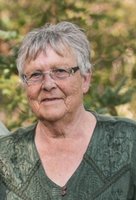 Gwen Matier
Gwen Constance Matier passed away at the University of Alberta hospital on May 12, 2019. Gwen was born on May 17, 1941 in Galahad, Alberta.
Gwen leaves to mourn her husband Doug of 59 years, son Dwayne (Donna) Matier, daughter-in-law Noreen Matier, grandchildren Tyler, Justin, Mandy, Carson, Aharon, Amber, and Ryan, and nine great-grandchildren. Left to mourn are brothers Orville Fossen, Ron Fossen, Barry (Pauline) Fossen, sisters Joyce (Fred) Forester, Sandra (Keith) Lassu, Kathy (Ed) Peake, brother-in-law Bill (Shirley) Matier and numerous nieces and nephews and their children. Gwen was predeceased by her son Darcy Matier, parents Joy and Tina Fossen, parents-in-law Charlie and Edna Matier, sister-in-law Faye and brother-in-law Clarence Kuefler, brother-in-law Ken Matier, sister-in-law Shirley Fossen, and nephew Darren Lassu. Gwen also leaves to mourn numerous friends.
When Gwen was younger she helped her parents with her younger siblings which apparently was quite challenging. She worked at the Galahad hospital where she met her husband who was a cowboy that had been bucked off a horse and was hospitalized. Gwen couldn't resist his charm. They were wed and started a farm south of the Battle River. Together with their two boys, they raised quarter and thoroughbred race horses, cattle, donkeys, chickens, turkeys, and geese. When Doug was at the tracks Gwen ran the farm and raised the boys. Gwen ensured the farm was neat and tidy spending countless hours with her boys cutting grass, weeding and harvesting the garden, picking berries, canning, baking, trimming trees, painting the house, sewing clothes, hauling hay, fixing fence, wrangling cattle, etc. Gwen even found time to work at Wayne and Deena's restaurant in Galahad for several years. The boys grew up and moved on and Gwen and Doug eventually moved into Forestburg. The boys wed and had children of their own. Gwen and Doug loved to attend the grandchildren's events such as wrestling, volleyball, dance, graduations, and baseball.
Battling medical issues for years, having a deep faith in Jesus Christ, and having worked so hard on the farm made Gwen a formidable person. She spoke frankly and honestly and was always there for her family and friends.
The family would like to thank all the medical staff that helped Gwen, Pastor David and Pastor Andrew, and Doug and Gwen's countless friends. In lieu of flowers, donations can be made to the Canadian Cancer Society or the Pleasington Historical Society. Many thanks to Fee and Sons.
Funeral services for Gwen will be held on Monday, May 20, 2019 at 1:00 PM at the Forestburg Community Center. Pastors David Tonner and Andrew Lortie will be officiating. After the service, interment will follow at Pleasington Cemetery, followed by lunch at the hall.