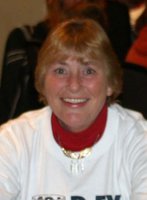 Valerie Vincett
Val was born in the Killam Hospital and grew up in Sedgewick, spending her teen years giving swimming lessons at the Sedgewick Lake. Many of Val's childhood friends still live in the flagstaff area and love to get together and reminiscence about the Sedgewick days. While in high school, her mother Bobbi, and brother Ed moved to Edmonton. Ed attended Nait and Val finished high school. Val continued her education at Red Deer College. She worked as an aide at the Michener Centre in Red Deer after college.
In 1974 Bobbi, Ed and Val traveled to England and Malta meeting Bobbi's family. It was a trip Val would often talk about the rest of her life. In the early 1980's Val and family moved to Galahad. Val was a stay at home mom with David and Brad. Her marriage ending in 1989, she took over the post office and ATB agency. Having both a house and business in one building, enabled her to be employed and look after Brad and David. The year following Val met Ken and became very close. The fall of 1991 Val, David and Brad moved to the farm. Val and Ken were married and Dylan was born in 1993.
Val understood Ken's goals for the Farm and could be counted on for support and help. Val soon made the house a home, developed large flower beds and a garden in the yard. She enjoyed her greenhouse and garden. Val would spend her winters studying seed catalogues and her plant book planning and mapping for the next growing season. Val loved the privacy and quietness of the farm.
A lifelong animal lover, Val had many dogs in her life. While in Sedgewick a dog named Major, in Red Deer a dog named Beau, in Galahad dogs named Gizmo, Chancelor, Smokie (Kens Dog who played as the matchmaker.) George who was an adopted little dog became Val and Ken's dog and was very protective of family and farm. Being on the farm allowed Val to have other pets as well, soon owning many horses. Other animals included barbed rock chickens, a pot belly pig named Willy, and a donkey named Maybe. Ryley was a golden retriever dog and she raised 3 litters of puppies. Val really enjoyed the time spent with these litters of pups. Springtime meant new foals and Val would spend hours with these young horses taking pictures. All of these animals were very special to Val; it was very hard for her to send them on to new homes.
Val was a true artist. Her artistic process meant that for every finished art project, there were 10 started or many incomplete projects and numerous ideas for others. She enjoyed the challenging aspect of art. If it required more know how she would take a course, or purchase new equipment and learn how to operate it quickly. Painting, photography and wood carving were her favourites. Photography also included the editing of photos, printing/framing. She would also edit old photos bringing them back to life. She was happy to take photos for any occasion and give them away to people as part of her passion for art. This included graduations and special family occasions. She was always the photographer and rarely the subject of the photo.
Although Val had many talents and interests, her family came first. She encouraged her boys to do well in school, sports and 4-H. She had high expectations for them. They knew this and that has made them the men are today. A proud hockey and 4-H mom, she travelled to many hockey games, 4-H functions, enjoying the social time with these hockey and 4-H Families. Family reunions and camping in the summer were also very important to Val. Val enjoyed the time spent with her extended family. Val's camera was always busy at these gatherings.
Val and Ken took many short camping trips. They often returned home with a trailer full of plants and flowers for Val's garden. Day trips to the creek and scenic areas close to home were also a favourite of Val's. She rarely returned home without collecting rocks, driftwood or other interesting items.
In 1997 Val retired from the post office and sold the building, allowing her to spend more time with family, her hobbies and community groups. She worked part-time at Fas Gas, Galahad Care Centre, and The Community Press.
Working at Fas Gas Val enjoyed the company of customers and Co-workers. It had a flexible schedule so she appreciated her days on and days off.
She really enjoyed reporting for the paper and the challenges of writing a good accurate story and providing nice pictures. It was a chance for her to give back to her community by promoting the community with her stories and pictures. The Community Press also gave her a flexible schedule; she had time for Ken, family friends, and her hobbies. Val was a very independent person and enjoyed making her own plans for the day.
In August of 2010, 20 hours of Cancer surgery changed Val's life forever. She battled to get her life back, even returning to her part-time job reporting. She was admired by many for her courage. Val's outward motto in life became no matter how you feel, get up, dress up, show up, and never give up. She started with new hobbies on her computer, playing scrabble, editing more photos and joined a wood carving club. She continued as a member of the Women's Institute Group in Alliance. As part of recovery, her second surgery was never completed and battles with depression were part of her life. It was very difficult to come home to a quiet house, Val sitting on her favourite couch staring at the wall. She was not physically strong enough to enjoy her garden and her horses. The horses were still very important to her and she was adamant that the horses were to stay on the farm.
Christmas Day in 2013 Val was again challenged with a crippling stroke. She spent the next year receiving therapy at the Daysland Hospital and the Halvar Johnson in Ponoka. Although she participated and worked very hard at physiotherapy for one year she did not achieve her goal of returning to live at home. The transition to long term care only depressed her more. Although she received excellent care she never personally accepted the Galahad Care Centre as her home.
Val was strong-willed and could and definitely would back up her opinion. She maintained the ability to know how you were feeling. Always asking "how are you?" first no matter her situation or challenge. She was always kind and caring and willing to help those in need. Giving up and quitting was not her way, and she did not respect those that did. That being said she gave her full effort to recover. In her final conversation with Ken, she said "I just want to come home with you."
A memorial service will be held at the Galahad Agriplex on Monday, May 6, 2019, at 2:00 p.m. Memorial donations in the memory of Val may be made to the Galahad Care Centre Ladies Auxiliary or to the charity of the donor's choice.