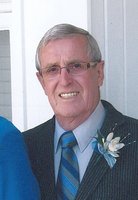 Merlyn Litke
Merlyn (Merle) Max Litke was born in Galahad on July 26, 1937, to Dan and Wilma Litke. He was the 2nd of 6 children. He died on April 27, 2019 after a valiant battle with cancer. Tragically predeceased, by the same disease that took his life, were his oldest daughter, Kim and his beloved wife, Sharon. Merle was also predeceased by his parents, his younger sister Gloria, his mother, and father-in-law and brother-in-law, Ellis.
Merlyn was raised on the (LeGear) family farm, east of Forestburg, until 1948, when they moved to town. He attended school at Woodrow, Merna, Galahad, Pleasington and Forestburg. While attending Pleasington, Merlyn and brothers Lloyd and Eldon walked the 4 miles to school and back home again, uphill both ways, of course! In the winter they were delivered by a horse-drawn cutter, complete with wood stove, a fine school bus, to be sure!
Times were hard, raising a family in the years that followed the depression. Lloyd, Merlyn and Eldon had to share 1 bike among the three of them. One day, Merlyn was riding the bike and Eldon was running in front. Although Eldon did his best to get out of the way, he was run over by the bike and his head went through the spokes. The bike was totalled, Eldon was in trouble for not getting out of the way and now there was no bike for 3 boys!
Sundays were an important day, growing up. After a hard week of work, the Litke family enjoyed visiting with family and friends and sharing a meal.
Merle was very young when he donned his first pair of skates. He was a natural and skilled athlete who excelled at both hockey and baseball. He played Centre for the Forestburg Flyers and was a catcher for the Forestburg Braves. As kids, we enjoyed watching him play at many games and tournaments. When he finished playing competitively, he played many more years for fun. Merle made a lot of friends (and some enemies) playing sports, most of which lasted his lifetime.
March 27, 1965 marked the beginning of his courtship to Sharon Merkley. They attended a party at the apartment of Jeanette Rennich following the Edmonton Indoor Rodeo. They were joined in marriage on November 20, 1965 in Forestburg. To this union, three children were born. Kim in 1966, Dale in 1968 and Lynn in 1973.
Family was very important to both Merle and Sharon. They enjoyed raising their family in Forestburg and they were thrilled to become grandparents. They did their best to attend performances, plays, sporting events and awards nights for each and every one of us. Our friends were their friends and were welcomed to their home as though they were family. They loved each of us for who we are and didn't try to change us. They were proud of us in success and loved us harder when we failed. It was an honour to be raised in such a loving environment, they taught us about the true meaning of family.
Merle worked at various jobs in Forestburg and eventually became a journeyman carpenter. He apprenticed with his brother Lloyd and brother-in-law Randy and then went on to run his own business. He was a meticulous and hard worker.
Merle and Sharon both loved travelling and enjoyed many trips together. Sometimes they travelled alone and sometimes with others, but they always had an adventure and came home with more friends than they left with.
Merle never stopped missing his daughter or his wife. Family and friends were instrumental in including him in their plans. Whether it was a trip out to Willow Grove, a Concert Series instalment, a sporting event or just dropping in for a visit, the people who took him under their protective wings, truly made a difference in his life. We thank you from the bottoms of our hearts!
Left to lovingly cherish Merle's memory are his son Dale Litke, daughter Lynn (Marty) Rombough and son-in-law, Brent (Molly) Stenson; grandchildren Braedan, Kynan, Keegan and Jace Stenson, Delane, Kelsie and Noah Litke, Ainsley and Madelin Rombough; brothers Lloyd (Maxine), Eldon (Judy), Elroy (Fran); sister Cyndie (Randy) as well as numerous nieces, nephews and friends.
A celebration of life will be held at the Forestburg Arena on Thursday, May 9, 2019, at 1:00 pm. Memorial donations in memory of Merle may be made to the Forestburg Arena Association or the Thunder Stars Minor Hockey Association.