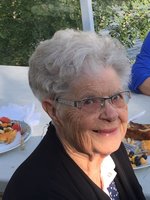 Genevieve "Genny" Froehler
Genevieve "Genny" Froehler of Providence Place Daysland formerly of Strome, passed away suddenly on April 22, 2019, at the age of 94.
She is survived by four daughters, Ann (Terry) Manning, Virginia Ritson-Bennett, Susan (Gene) Chromik, "adopted" daughter Audrey (Jim) Johnson, daughter-in-law Colleen Froehler, seventeen grandchildren, twenty-one great-grandchildren, two sisters Dorothy Orr and Phyllis Kroetsch, three brothers-in-law, three sisters-in-law and numerous nieces and nephews.
Genevieve was predeceased by her husband Melvin, son Paul, two infant children, son-in-law Greg, five brothers Henry, Michael, Leander, Gilbert, George and two sisters Patricia Loesch and Rita Badry.
A prayer service will be held at 7:00 pm on Tuesday, April 30th and a funeral mass at 11:00 am on Wednesday, May 1st in the Daysland OLOP Catholic Church. Memorial donations can be made to Our Lady of Fatima Cemetery Fund, Samaritan's Purse, Chalice, or the charity of the donor's choice.