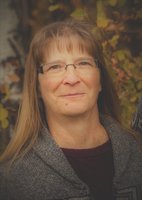 Donna Palmer
On Friday, April 12th, 2019, Donna Faye (Whitten) Palmer passed away suddenly at the age of 58 with her mother by her side at the Killam Hospital. She was born March 14, 1961, at Hardisty Hospital to Helen and Bert Whitten. She resided in Strome, AB.
Donna will be forever remembered by her three children, Jacqueline, Ryan, Kayla (Mike) and three grandchildren, Brooke, Jordan and Luca. She is also survived by her parents, Helen and Bert Whitten and extended family Pat and Rhonda Whitten, Elaine and Lyle Patten, Laura and Wayde Barker, Herb and Wanda Whitten and Kathryn Whitten, Anita and Frank McGowan, Ina Hagen, Linda Carrier, Ed and Marilyn Palmer, Bob and Marie Palmer, as well as numerous nieces and nephews and friends.
Donna was predeceased by her husband Ernest Palmer, her parents-in-law Lloyd and Edna Palmer, sister-in-law Doreen Cameron, brothers-in-law Reg Palmer, Edward Hagen, Rick Carrier, and Neil Cameron.
May she forever be in our hearts.
She will be greatly missed.
A Celebration of Life will be held at 11:00 am on Monday, April 29th at the Killam Community Hall. Memorial donations may be made to Stars or a charity of the donor's choice.