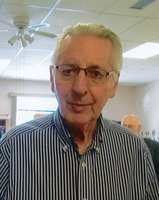 Kenneth Offord
Kenneth Stanley Offord, husband, brother and uncle passed away suddenly on March 28, 2019 at the Centennial Centre for Mental Health and Brain Injury in Ponoka at the age of 75 years.
He is survived by his devoted and loving wife, Lorna, brother Leonard (Lynne) Offord and many nieces and nephews.
He is predeceased by his brother George and parents, Stanley and Helen Offord.
Kenneth was born August 20, 1943 in Nipawin, Saskatchewan and grew up in Aylsham. He attended school in Aylsham up to Grade 10, then Nipawin Composite High School for Grades 11 and 12. He then furthered his education at the University of Saskatchewan (Saskatoon) and the University of Alberta (Edmonton).
Ken met his wife, Lorna, while teaching at Bentley, Alberta. The following year they moved to Sedgewick, where he taught for many years, then later at Forestburg. He was very active in the Alberta Teachers' Association, where he was on the Executive Council as District Representative for 18 years for Central East. He was also involved in the community as Town Councillor for 39 years, and on the School Board for a few years after his retirement. He was a Lions Club member and on the Flagstaff Adult Learning Board.
Ken was a very social person who loved to talk and visit. Ken also loved to dance which he remembered well into his illness. Ken was a collector of many things, cars, model cars, trains, coins, stamps, etc. Travelling was another of his passions.
We would like to extend a special thank you to Dr. Meer and the staff of Horizon House at Centennial Centre for their care.
We would also like to take this opportunity to thank everyone for their support and kindness. It is greatly appreciated.
In lieu of flowers, donations may be made to the Alzheimer Society or a charity of your choice.
A Memorial Service will be held at the Sedgewick United Church on Saturday, April 13th at 2:00 p.m.