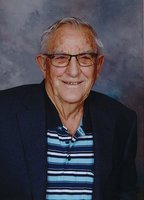 Leander Kroetsch
Leander John Kroetsch, beloved husband, father, brother, grandfather and great grandfather passed away peacefully in the Royal Alexandra Hospital on March 19, 2019, at the age of eighty-seven years.
Left to cherish Leander's memory are his devoted and loving wife Phyllis, daughters Bernadette (Paul) Allers of Daysland, Paulette (Ray) Garrett of Edmonton, Jennifer (Lorne) Albers of Heisler and Mark (Cassie) Kroetsch of Daysland, daughter-in-law Charlene (nee Makarowski) Kroetsch (George Lepard), 11 grandchildren and 5 great-grandchildren. He was predeceased by two sons Richard and Alan, one grandson Matthew Allers, and daughter-in-law Roxanne (nee Makarowski) Kroetsch.
Leander was born on January 3, 1932, near Heisler, Alberta to parents George and Caroline. He grew up on the farm along with siblings Johnny, Eddie, Loretta, Linus, Anne, Rita, Edna, and Irene. Leander remained on the farm and continued farming after he married Phyllis Niehaus on August 15, 1955. They began their marriage in a modest two-room home which they moved onto the property in which he grew up. As the family grew, Leander built on to the home.
Leander had an incredibly strong work ethic and worked hard to support his family. Farming was his main occupation but he also tended bar in Heisler when he could to make a little extra money. Another great joy of his was playing music and over many years he played in a few different dance bands that took him to many small towns and cities in and around the area. He also took his music to different bars as well as the Church, especially during the Christmas and Easter seasons. The calendar was always being updated to accommodate the next gig. He played a variety of instruments which included the guitar, bass guitar, violin, and when he wanted to try a different sound, the mandolin. Each and every note he played was learned by ear and he was often heard practicing in the house. He would never pass up an opportunity for other musician friends to come to the house for jam sessions.
Leander loved to tinker and fix things and he was quite inventive. He spent many hours in his shop inventing the next new gadget, repairing things or just tinkering and enjoying the process. One example is when the grandchildren starting coming along, he spent some time building a working carnival ride for them to spin around in and squeal with glee, which brought him great joy.
Leander lived on that same farm until he was 80 years old, at which time he and Phyllis sold and moved into Providence Place in Daysland. His hard work ethic and his penchant for fixing and tinkering continued after moving there. He helped clear snow, helped with the community garden, and helped mow and keep the grounds looking nice. After a bit people in Providence Place learned of his abilities and soon there were many requests for small repairs and other projects that kept him occupied. He was elated to be able to help out and took great pride in his work. He was helping out and assisting wherever and whenever he could up to the day he no longer could which is when he went into the hospital to rest and slip away peacefully.
A Prayer Service will be held at 7:30 p.m. on Friday, March 22, at Our Lady of the Prairies Church, Daysland. A Funeral Mass will be celebrated at 11:00 a.m. on Saturday, March 23 at Our Lady of the Prairies Church. Memorial donations may be made to the Heart & Stroke Foundation or a charity of the donor's choice.