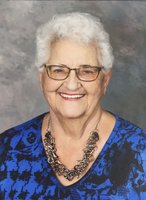 Shirley Shihinski
Shirley Jane Shihinski (Caruth) was born on September 10, 1936 to Sam and Dorothy Caruth on their farm north of Killam. She attended Poplar Park country school then Sedgewick School.
Shirley started working as a waitress in Viking then she moved to Daysland where she waitressed at the Daysland Cafe. Shortly after she went to work at Victor Baich Agencies and continued on for new owners Cliff Driedger and next owner Craig Badry of Badry Agencies. In 1974 she moved to the newly built Alberta Treasury Branch. She worked as a teller until her retirement in 1994.
Shirley married Bernie Shihinski in July 1957. They have 3 children Dale, Cheryl and Morris.
Shirley was well known for her kind generous heart, her sense of humour and her big smile. Her family was the most important thing in her life. She also had a great love for her animals big or small. Especially her horse Daubin and her cats Gauto and Guido. After she lamed the family horses she ended up riding Blackie the cow!
Her hobbies included quilting, cooking family meals and playing board games. A good game of checkers, scrabble or marbles always made her happy and she always tried to slip in an extra move or invent a new word.

She is survived by her children Dale (Cathy), Cheryl (Colin), Morris (Carolyn); ten grandchildren and ten great-grandchildren; sisters Eileen (Ivan) Tschritter, Lillian (Dennis) Christensen, Dorothy-Jean (Glen) Thorburn; sisters-in-law Gladys Caruth and Elsie Shihinski.
Shirley was predeceased by her husband Bernie in December 2016 and her brother Ken "Tyke" Caruth in 1996.
A Memorial Mass will be held at Our Lady of the Prairies Catholic Church, Daysland on Monday, March 11th at 11:00 a.m. Memorial donations may be made to the Alberta Heart & Stroke Foundation or the Daysland Hospital Foundation.