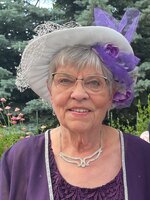 Gerri Link
It is with deep sadness and sorrow we announce the peaceful passing of Gerri Link at the age of 82 on February 1, 2023. She was surrounded and held by her loving family at the Killam Health Care Centre. Mom's life was filled with her deep love of all of her immediate family, relatives and friends.
Our dear Mom and Grannie/Grandma was born on October 25, 1940 to Mae and Bert Bohle at Claresholm Alberta. She was raised there with her sister Barb and Grandmother Hulda Allard, along with a lot of loving and caring Aunts, Uncles and cousins. She went to school in Claresholm and began working part time in the hospital at age 14. Her goal was to become a nurse, but financial restraints did not allow this to happen.
Her full-time career began as a telephone operator for Alberta Government Telephones. She met and married Reuben Link of Camrose, Alberta. In their early years of marriage, they travelled and lived around the province with a seismic crew that Reuben worked with. During that time, Mom enjoyed exploring all parts of the Province. In 1960, Rick was born and a couple of years later, they decided to settle down in a community and chose Killam where they opened Killam Tire. In 1964, Shelly was born. As she raised her young children, her focus was caring for her family, while Reuben's focus was establishing the Tire shop. Mom then ventured to explore her passion as the Fashion Manager at the local Co-op which she really enjoyed for the next 14 years.
Another love in her life was photography and she spent an immense amount of time fulfilling that passion. As cameras became more available, her love for photography kept growing. She became a Creative Memories consultant for the next 19 years, enjoying every moment of scrap booking the photos she took and collected.
She also volunteered many hours in her community over the years and in 2013, she was inducted into the Killam Hall of Fame, and she considered this a huge honor to receive this award. Mom also spent time volunteering at the Twice Nice store in Killam, where she got a chance to visit with members of the community and witnessed the kindness of people donating so many items to the store.
Her greatest devotion was to her family. She loved spending time with her son and daughter, and once grandkids came, she was always available to babysit! God granted her the gift of her 5 grandchildren who were very special treasures to her. As the grandkids grew up, she was always excited when they would spend time with her over phone calls, coffee, a meal, or a visit. She deeply loved them and was always so proud of each of them and cherished the special connections she had with each of them. She felt they were the smartest, most handsome, most beautiful, clever humans who were purely a wonderful addition to this world. Gerri loved visits and made sure to always have snacks (usually fresh baking) on the counter when anyone happened to stop by.
Gerri was always so grateful to be in the professional and compassionate care of Dr. Tim Hanton since his arrival to our community in 1998. He listened with such patience and understanding for which our family is so thankful.
Gerri was predeceased by her husband Reuben, mother Mae, sister Barb and many relatives that were the fabric of her life.
She leaves to mourn her two children Rick and Shelly, Rick's wife Terry, and Shelly's husband Dwight and her special grandchildren: Travis (Simone Steenham), Becca (Cam These), and the triplets Courtney (Jesse Rempel), Jaedine (Dylan Stanton), Bradley (Taylor Hogg). She also leaves behind her brother Ken (Deana) and many close cousins.
At her request a service will be held at the Killam United Church on Saturday, February 11th at 2:00 P.M. Internment of Gerri and her husband Reuben will take place at the Killam Cemetery immediately following the service. Lunch will follow at the Killam United Church.
Donations can be made to the Killam Health Care Foundation, Pancreatic Cancer (https://pancreaticcancercanada.ca/honour-someone-special/) or a charity of one's choice.