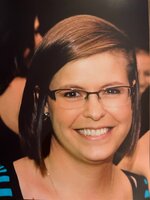 Miranda Bitzer
Miranda Beverly Bitzer was born to Trevor and Barb Bitzer in Camrose, Alberta on June 3, 1993 and passed away on January 25, 2023 at the tender age of 29 years. Miranda gifted her family with 28 wonderful years before having to experience her last year bravely fighting a disease that eventually took her to the next step in her journey.
Miranda's passions were baking, gardening, golfing, camping & she treasured the family fishing trips … until she had to hold what she caught near her face for a picture. Even in her sickness, Miranda took charge of organizing the whole family to enjoy what would unknowingly be her last Summer at Barb's Uncle & Aunts' cabin. She couldn't enjoy it like every other year, but she did her best to partake in some fishing, fires & cards. Never far from Miranda's side was her dog Airabelle. They shared an unconditional love that warmed our hearts. Miranda & Andria grew up very shy, always having the comfort of one another. Holding hands during their first soccer games certainly handicapped their talents. Miranda was lucky enough to enjoy a memorable Summer vacation driving across Canada with her brother, sister and Grandpa & Grandma Kropinske when she was 12. From Hardisty to Newfoundland and back in 41 days. She was shown the most famous sites in Canada, that many of us never get to experience. Miranda graduated in 2011 with a Business scholarship. She got her Bachelor of Commerce at Grant MacEwan University. After a short stint living in Grande Prairie, she was lucky enough to accept a surprise job opening in Hardisty, becoming GCS Energy Services' very young Payroll Administrator. She later took on more responsibility doing full accounting tasks for related companies Home Hardware and 3 Hotels. Before buying her own house, Miranda purchased a 5 bedroom mobile home to rent. She was a smart cookie, finding ways to put her earnings to work as a very young Landlord. Miranda's need for structure & organization was wonderful for the family. From organizing a family golf/winery trip through BC, to putting together her Mother's 51st birthday that her Dad couldn't seem to make happen @ 50, to helping in so many ways with her Sister's wedding.
Miranda is survived by her boyfriend Shelby Curr; parents, Trevor and Barb, her identical twin sister Andria (Nick) Waring of Hughenden, her younger brother Braden (Courtney Jacobsen) and niece Beklyn Jane Bitzer of Hardisty; Grandparents Bill and Bev Kropinske; Uncle Brad (Cheryl) Kropinske; Auntie Kerry (Allan) Baumgartner; Uncle Wyatt (Theresa) Bitzer; and Great Grandmother Ella Kropinske.
Miranda was predeceased by her Grandparents Edith and Wayne Bitzer.
A Celebration of Life will be held at the Hardisty Community Hall on Wednesday, February 1, 2023 at 2:00 p.m. Those wishing to make a donation in memory of Miranda, can donate to the Saving Grace Animal Society or a charity of the donor's choice.