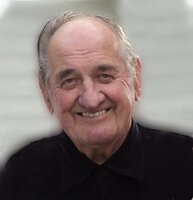 Reuben Link
It is with deep sadness and sorrow we announce the peaceful passing of Reuben Link on September 3, 2022. He lived a life sharing kind words and he was deeply loved by his family and friends.
He was a loving Husband, Dad, Papa and Grandpa. Everyone who knew Reuben felt his big heart and giving nature. Reuben was born on June 10, 1932 the sixth of seven children to Adolph and Olga Link at the family farm in Forestburg, Alberta. Their son Rick (Richard) was born in October of 1960 and daughter Shelly in June of 1964. Reuben was predeceased by his parents, and his siblings Art (Erna), Agnes (Julius), Meta, Addie (Harold) and Bob (Pat) and brother-in-law Bob Waite. Reuben has one surviving sister Joyce Waite in Spokane, Washington.
Reuben left home at age 17 when he began working for Gunderson Waterwell Drilling, and shortly after took a job with Young Exploration – a seismic drilling company. After meeting Geraldine Carol Bohle of Claresholm, Alberta they were married in October 1957. After moving around Alberta, they settled in Killam in 1963 when they bought Killam Tire and Rubber. During his years running the Tire Shop, Reuben was busily involved in the community participating in the Chamber of Commerce, elected as a Town Councilor, served on the Fire Department and later as the Fire Chief for quite a few years. He was the founding president of the Lions club and he also worked with the Boy Scouts. He was inducted in the Killam Hall of Fame which he considered such a great honor. He was so proud his son Rick and his wife Terry returned home to purchase and run the business so he could enjoy his retirement. During his retirement he enjoyed woodworking in his shop garage, lending a hand to his son-in-law Dwight while he drilled waterwells and also loved making keepsake books for his family and friends – he named it scrapbooking. If you asked him how he was, he never failed to say good, even in his last month when his health was failing. He had an opportunity to do some travelling enjoying Hawaii, Barbados, Bermuda and Arizona, but was happiest just being at home in Killam.
In 1992 Reuben was excited for the arrival of his first grandson, Travis Armstrong and he had an opportunity to create many special memories with him while he babysat—with Gerri's help while Shelly returned to work. Three years later in 1995 Rebecca Armstrong was born followed by the Link Triplets 2 months later—Courtney, Bradley, and Jaedine, and he fell in love with and was so proud of each and every grandchild. Reuben was often seen in the stands watching and cheering them on in their various sports and activities—and of course videoing every special moment! He loved baseball and was fortunate to attend just about every game, often supplying coolers of water for their teams. His grandchildren Travis (Simone Steendam), Becca (Cam These), Bradley (Taylor Hogg), Jaedine (Dylan Stanton), Courtney and Jesse Rempel were all the light of his life shown by his many photos he took throughout his life. He was much loved by his family and all who knew him, and we know he will hold a special place in our hearts forever.
Our family would like to especially thank Dr. Hanton for his exceptional care and compassion for Reuben as well as Dr. Rami Abu-Zeidan whose care and concern he experienced in Long Term Care. The compassionate nurses and staff at Killam Long Term Care who took their valuable time to make everyday life interesting during his stay. Thank you to Fee & Sons, and anyone else that was part of his 90 years on earth. You were all special to him and as he always reminded us "I love you all"
We are planning a private service Friday, September 16 at 2:00 pm. Following the service, we will welcome anyone who wishes to share some coffee and memories to join us at the Killam Senior's Centre.
Memorial Donations in memory of Reuben can be made to the Killam Health Care Foundation.