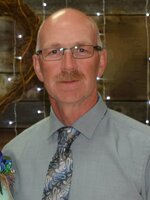 Todd Moser
Todd Leslie Patrick Moser
January 1, 1964 - August 12, 2022
Todd Leslie Patrick Moser passed away August 12, 2022, at the University of Alberta hospital, after a brief illness. His wife Lynn and son Blake were by his side.
Todd grew up with a love of sports and all things athletic. As a young man he played baseball, hockey, and enjoyed track and field events.
In 1987 Todd married his wife Lynn and had one son, Blake in 1992. In 2002 Todd found his biological mother, Georgina and had since spent many hours reconnecting with her over the phone and in person - often on the golf course.
Todd worked hard for his family, spending more than 30 years at the Hardisty Terminal; retiring in 2017. Retirement allowed Todd to do the things he really enjoyed: golfing near daily in the summer months, working on projects around the farm, looking after his lawn, and travelling south to Arizona in the winter.
In 2020, Todd was blessed with his first grandson, Patrick whom he adored so greatly. Ten days before his death, Todd received a granddaughter, Kate whom he unfortunately never had the opportunity to meet.
Todd is survived by his wife Lynn Moser, mother Georgina (George) Rand, mother-in-law Kathleen (Maurice - deceased) Manning, son Blake (Kelsey) Moser, and two grandchildren Patrick and Kate Moser.
Memorial donations in Todd's honor can be made to the Heart and Stroke Foundation of Canada, Mazankowski Alberta Heart Institute, or the charity of your choice.
At Todd's request, a formal service will not be planned.