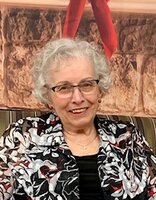 Lillian "Lil" Zurba
Lil (Lillian, Lily, Lilia) Zurba passed away peacefully and went to be with the Lord on July 6, 2022 at the age of 83 after a short battle with cancer.
Lil was born to parents Michael and Mary Maik on June 12, 1939 of Meadow area near Derwent, AB.
Lil was predeceased by both her parents, her husband Emil and siblings Joyce, Albert, Leonard, Marshall and Eddie.
Lil is survived by her special friend Marvin Veale, sister Irene (John Wilderman), brother Harry, sisters-in-law Iris and Linda Maik, all of her children: Laurie (Larry Zimmer), Deanna (Doug Lovsin), Brian (Debbie Zurba), Shelley (Dan Prichard), 13 grandchildren and 5 great-grandchildren.
Exodus 23:20 See, I am sending an angel ahead of you to guard you along the way and to bring you to the place I have prepared.
Friends and family are invited to join in "Lil's" Celebration of Life at parkview Alliance Church in Vermilion, AB on Saturday, July 16th at 11:00a.m. Memorial donations in memory of Lil may be made to the Cancer Research Society (https.//cancer.ca).